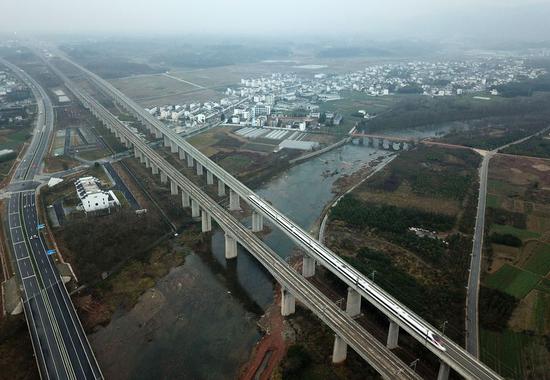 A bullet train operating on the Hangzhou-Huangshan high-speed railway pulls into Huangshan North Railway Station in Huangshan, east China's Anhui Province, Dec. 25, 2018. (Xinhua/Liu Junxi)
China's taxation authority has announced 16 measures to facilitate tax services in the Yangtze River Delta and boost the region's integrated development.
To achieve economic integration, three measures have been introduced to facilitate tax collection for trans-provincial enterprises in the Yangtze River Delta, the State Taxation Administration said in a notice.
To strengthen the sharing of tax-related credit information about taxpayers, three measures have been implemented to help taxpayers better comply with the tax law and create a fair and just business environment, according to the notice.
To improve tax services in this region, an additional three measures have been introduced, involving smart tax handling, consistent tax consulting and better tax services for large enterprises, with the help of 5G, blockchain and other technologies.
As one of China's most economically active, open and innovative regions, the Yangtze River Delta boasts strategic significance in the country's modernization and further opening-up.
On Sunday, a new master plan was unveiled on the integrated development of the region, putting forward measures to elevate its opening-up across sectors including manufacturing, finance and services.
The 358,000-square-km expanse, about the same size as Germany, encompasses Shanghai Municipality and the provinces of Jiangsu, Zhejiang and Anhui. It contributes about one-fourth of the country's GDP and one-third of foreign trade and investment.