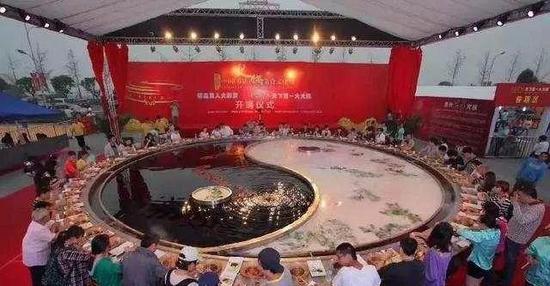 The world's largest hotpot from Dezhuang Restauran. (Photo/Chongqing Evening News)
Special: The Second China International Import Expo
The world's largest hotpot from Dezhuang Restaurant, one of the biggest hotpot eateries in Chongqing, will be exhibited at the second China International Import Expo (CIIE).
It is a 10-meter diameter, 1.06-meter high and 13-ton pot with the outer edge consisting of 56 small tripod pots, symbolizing the unity and harmony of the 56 ethnic groups in China.
Famous calligraphy and exquisite paintings are engraved on the two-flavor hot pot, to show the history of the hotpot.
The pot requires 2,000 kg of hotpot seasoning, 200 kg of pepper, 500 kg of chili, and consumes 220 kilowatts of electricity, which can serve 56 people at a time.
The hotpot is divided into eight parts, which are respectively packed into two containers and is set to arrive in Shanghai after a three-day journey. Then it will be exhibited in the intangible cultural heritage hall after five days of assembling.
The Shanghai Port also welcomed a special batch of goods in recent days – about 200 kg of dough from Italy, which will be processed into classical Italian food during the second CIIE.
According to officials of Shanghai Customs, the food products imported in the past were either materials or ready-made food.
This gives Italian exhibitors a spotlight on CIIE as well as exposure to the Chinese market, showcasing wonderful cultures along the Belt and Road.
Besides Italy, which brings dough and the new Iveco commercial vehicles, Turkey, another Belt and Road country, will be bringing a Turkish market to the CIIE, as 23 Turkish companies have filled two large containers with more than 150 categories of exhibits transported to the expo.
According to reports, these exhibits from Turkey include not only dried fruits, beverages, and food, but also daily necessities including home appliances, medical equipment, porcelain, tableware, etc. The number of varieties is dozens of times that of the first CIIE.
Data from customs show that in the first eight months of this year, the Shanghai customs region achieved 1.02 trillion yuan in import and export of goods, with the Belt and Road market, an increase of 5.5 percent year on year, accounting for 24.8 percent of the total value of imports and exports in the area during the same period.