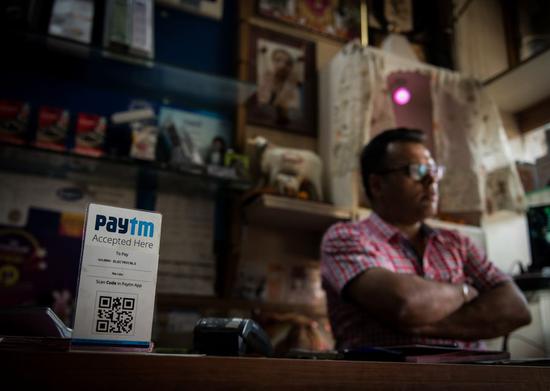 A shop owner collects payment with Paytm, an electronic payment sponsored by China's Ant Financial, in New Delhi, India, April 12, 2017. (Xinhua/Bi Xiaoyang)
Special: Xi Attends Informal Meeting with Indian PM, Visits Nepal
With its rapidly growing economy and geographical advantages, India is now becoming an important destination for Chinese investors going global.
Unlike traditional China-India cooperation, which was mainly in the field of import and export trade, industrial synergizing has come to the fore as a new trend of cooperation between Indian enterprises and their Chinese partners.
The development of Paytm, now India's largest mobile e-commerce platform, is an epitome of the emerging trend.
According to Vijay Shekhar Sharma, the founder of Paytm, just three years ago, his company was only a mobile payment company with just 25 million users and limited application scenarios.
Now, strategic cooperation with Ant Financial Services Group, a major Chinese e-commerce company, has made quite a difference.
Based on the similarities between the Chinese and Indian markets in population structure, consumer habits and business scenarios, Ant Financial Services brought Paytm a development strategy already proved effective in the Chinese market.
Paytm has now become one of the world's most popular e-wallet applications with over 300 million users, covering a wide business scope including online recharge, ticket booking, bill payment and entertainment.
Paytm has become a powerful e-payment platform in the daily life of the Indian people, who can enjoy the benefits and convenience of this digital time, said Sharma.
Such a new trend of China-India cooperation has also emerged in the manufacturing of home appliances.
After a process of localization, New Delhi-based Haier India, a subsidiary of Chinese home appliances maker Haier Group, now produces products designed for Indian consumers.
"At the earlier stage, we imported home appliances products from China and sold them to local customers, and it was a failed strategy," recalled Huang Decheng, product director of South Asia of Haier Group. "The Indian market is different from the Chinese one; just import and sell is not enough."
In 2007, Haier India shifted its business model from being a trader to becoming a localized manufacturer. Based on its strong research and development capacity, Haier India has succeeded in producing home appliances tailored for the Indian market.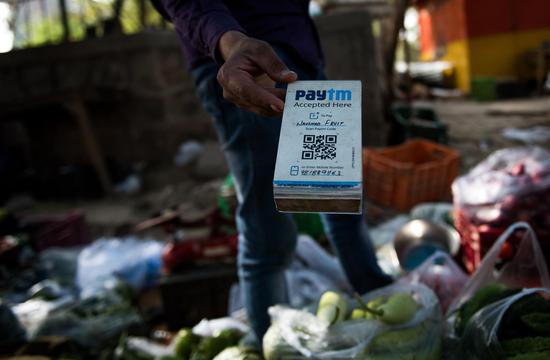 A seller shows QR code to a customer to collect payment with Paytm, a payment app sponsored by Alipay's parent company Ant Financial, in New Delhi, India, April 12, 2017. (Xinhua/Bi Xiaoyang)
In 2015, Haier India started making air conditioners featuring rapid refrigeration. In 2017, it introduced the intelligent inverter air conditioner into India. In 2018, Haier India added the self-cleaning function to the air conditioners sold to its Indian customers.
"Such a chain of manufacturing is tailored for India, and our products are quite popular with local customers," Huang said.
Enhancing synergy between research and development on one end and manufacturing on the other plays a decisive role in enabling the new form of cooperation to yield positive results.
In 2012, Kingfa Science & Technology Limited, a Chinese company focusing on research, production and sales of high-performance materials, established Kingfa India, after acquiring a modified plastics manufacturer in the southern Indian city of Chennai.
By combining the local manufacturing capacity and the Chinese material technology, Kingfa India has now turned an insolvent company into a leading material manufacturer in the local market and has expanded its business to New Delhi and Pune.
The key to the success is to converge the strengths of both sides, said Bai Jingen, general manager of Kingfa India. "The combination of advantages helps the company grow strong in the Indian market."