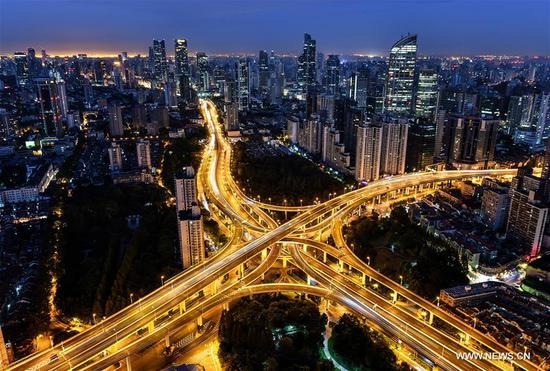 Special: 70th birthday of PRChina
The Press Center for the Celebration of the 70th Anniversary of the Founding of the People's Republic of China held its fifth press conference on China's efforts to advance opening-up to a higher level and promote high-quality development of commerce on Sunday.
Great achievements of commerce
China scored great achievements in the field of commerce over the past 70 years, Zhong Shan, the minister of commerce said.
The country has been the world's biggest consumer market as total retail sales of consumer goods surged to 38.1 trillion yuan (5.35 trillion U.S. dollars) in 2018, compared with 2.77 billion yuan in 1952, showing an annual growth rate of 11.6 percent, said Zhong, noting that consumption is the first engine of higher economic growth in the country.
China's import and export volume in 2018 stood at 4.6 trillion U.S. dollars, becoming the world's largest trading nation and very far away from the 1.13 billion U.S. dollars registered in 1950. Now, imports and exports drive employment for more than 180 million people, with private companies becoming the main force of foreign trade.
China has become increasingly appealing to foreign investors, posting a record 139 billion U.S. dollars of foreign direct investment (FDI) last year, despite a 13 percent year-on-year decrease in global FDI flows.
As the second-biggest investment destination, the accumulated use of foreign capital in China was 2.1 trillion U.S. dollars, and there were 960,000 foreign-funded enterprises by the end of last year.
In 2018, China's overseas investment reached 143 billion U.S. dollars. And the outward FDI stock by the end of 2018 was nearly two trillion U.S. dollars with 43,000 Chinese enterprises going abroad.
Further efforts on trade liberalization have seen the establishment of 17 free trade agreements (FTAs) with the Belt and Road Initiative (BRI) receiving positive responses from more than 160 countries, regions and international organizations.
New round of China-U.S. trade talks approaching
A week after the National Day, Chinese Vice Premier Liu He will lead a delegation to the United States for the 13th round of China-U.S. high-level trade consultations, according to Wang Shouwen, Chinese vice minister of commerce and deputy China international trade representative.
Wang expects that the two countries can move forward in the spirit of equality and mutual respect, with both sides accommodating each other's legitimate concerns, which benefits not only the two countries but also the world.
On September 19 and 20, China and the United States held vice ministerial-level trade talks, and conducted constructive discussions on economic and trade issues of mutual concern.
Further opening-up to attract foreign investment
Zhong expressed the belief that foreign investment in China will continue to expand, attracted by the country's huge consumer market. This is despite the China-U.S. trade conflict and rising labor and production costs in China seemingly dampening the enthusiasm of foreign companies eyeing entering the country.
"China's GDP grew by 6.3 percent during the first half of 2019, and domestic consumption contributed 60 percent of the growth," Zhong said, "which means China has a huge market, the attraction to foreign investors cannot be underestimated."
China has also repeated its welcoming stance to foreign investments with President Xi Jinping emphasizing several times that the country will continue to protect foreign investors' legal interests and will strive to provide better services to foreign investors.
"This guarantees a stable environment for foreign investors, which is also a huge attraction for them," Zhong noted.
China has been the second biggest destination for foreign investments for many years, and it has been a two-way beneficial street.
Wang noted that since China's reform and opening-up, foreign investment provided 10 percent of employment in cities, 20 percent of domestic tax earnings and 40 percent of trade. Different levels of the government in China truly support foreign investment.
Meanwhile, foreign investors also achieved huge profits in China. U.S. companies for example saw their total sales revenue in the Chinese market reach 70 million U.S. dollars. Sales revenue of many foreign companies in China have surpassed earnings in their domestic market.
To further attract foreign investment, China will continue to lower the market entry threshold, according to Wang.
The number of items on the Shanghai Free Trade Zone in 2013 was 190. Now it's 39.
The Foreign Investment Law that passed this year also guarantees equal treatment to foreign companies in China, and the government has established a complaint system through which foreign companies' rights can be secured.