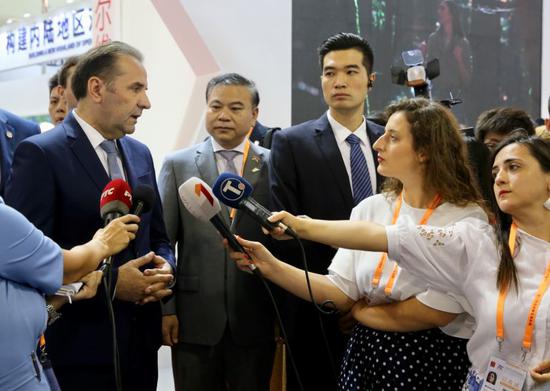 Deputy Prime Minister of Serbia Rasim Ljajic answers reporters' questions at the opening ceremony of the 2019 China International Fair for Investment and Trade in Xiamen, Fujian province, on Sunday. (Photo by Hu Meidong/China Daily)
Two countries must seek 'pragmatic solution', ex-commerce secretary says
China and the United States should work to rebuild trust and distance themselves from what has become a mutually reinforcing cycle of damaging trade action and retaliation so as to resolve their differences, a former U.S. commerce official said on Sunday.
Such an effort could also reduce barriers, strengthen important international institutions such as the World Trade Organization and jointly promote foreign direct investment flow, said former U.S. commerce secretary Carlos Gutierrez.
"Reaching an agreement must be the beginning-only the beginning of this process-but it is a critical step to achieving progress here. I believe both the U.S. and Chinese governments need to make every effort to find pragmatic solutions," he said in a speech on Sunday at the opening ceremony of the 2019 China International Fair for Investment and Trade in Xiamen, Fujian province.
China and the U.S. have agreed to hold a 13th round of their high-level economic and trade consultations next month in Washington, representing a new attempt to bridge their differences and make "substantial" progress, the Ministry of Commerce announced last week.
The two countries' working teams will engage in discussions in mid-September to prepare for the talks, which were originally planned for last week.
China-U.S. economic cooperation has helped to reduce trade barriers and create a more predictable investment environment that has fueled global growth over the past 40 years, Gutierrez said, adding that it is critical for the two countries to find a way to stabilize their relationship to reduce uncertainty, which is damaging to cross-border investments and the global economy.
Business leaders said calls for decoupling the Chinese and U.S. economies are detrimental to both, as it is neither possible nor realistic for the two economies to separate because they are both important parts in the global value chain.
"Trade tensions cause havoc in our industry," said John Neuffer, president and CEO of the Semiconductor Industry Association in Washington, adding that China is the biggest and fastest-growing semiconductor market and the industry's supply chains run deeply through the country.
Neuffer stressed the importance of supporting free trade as any move to estrange China or the U.S. economically or technologically would sever the supply chains and damage the semiconductor industry.
Despite concern arising from trade protectionism and unilateralism, there are ample examples of positive trends in international trade relations with China. For example, U.S. companies invested $6.8 billion in China in the first half of this year, 1.5 percent higher than the average growth rate in that period for the past two years, according to New York-based independent research provider Rhodium Group.
And it's not only U.S. companies that are committed to deepening their roles in China's vast market. Jens Puttfarcken, president and CEO of Porsche China, said despite all the uncertainties, the company is optimistic about its sales performance in China and believes that there is no alternative to global free trade.
The German carmaker delivered 42,608 vehicles in China in the first half of 2019, a year-on-year increase of 28 percent, leading the rest of the global market.