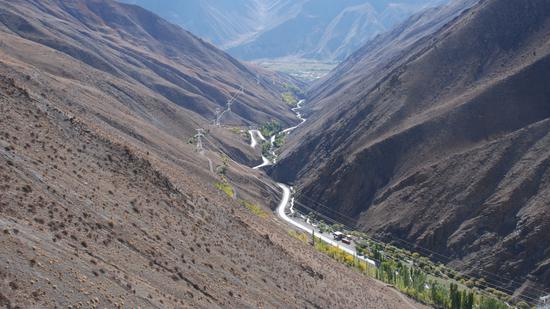 The Dushanbe-Chanak Highway in Tajikistan. /File Photo
The Dushanbe-Chanak Highway in Tajikistan, built by the construction company China Road and Bridge Corporation (CRBC), spans the north and south of the country, turning previously isolated areas into a thoroughfare.
The road has provided Tajiks with essential yet unprecedented traffic access for more than a decade.
A critical road for Tajikistan
Over 90 percent of Tajikistan's surface area is covered by mountains. Therefore, its transportation system mainly relies on roads.
The Dushanbe-Chanak Highway has become a major route in Tajikistan, connecting the capital Dushanbe with the northern border with Uzbekistan.
Measuring 380 kilometers long, it has slashed driving times from 12 hours to only four, significantly shortening the journey.
Marom terminal is the first stop along the road when traveling north from Dushanbe.
"This is the only terminal in the city that provides long-distance car services to the north," said Rahmatov Anvarbek, manager of the terminal, who's been working here for over 10 years. Since the highway opened in 2008, the terminal has seen a big increase of passengers.
Now it's one of the busiest terminals in Dushanbe, generating more income for drivers.
Rahmatov told us the traffic was very heavy here in the past. Mountain passes were usually blocked for half a year due to avalanches in the winter, but they are passable throughout the year.
A road of friendship
The highway includes some record-breaking projects – Shahristan Tunnel, the longest in Central Asia, and a bridge over the Syr Darya River, the longest in Tajikistan.
These were all constructed by the CRBC.
Li Changwei, general manager of CRBC's Tajikistan office, told us the project provided over 3,000 jobs for local people, and the highway significantly boosted connectivity within the country. It also gained a national engineering award from the Tajik government.
The CRBC has built 728 kilometers of roads in Tajikistan, investing 779 million U.S. dollars.
Tajikistan used to be an important stop along the ancient Silk Road, and now acts as an active supporter of China's Belt and Road Initiative. China invested over two billion U.S. dollars as of June 2017 – Tajikistan's biggest source of investment.
Improved infrastructure is expected to bring more room for development to the country in the future.
(Lai Shiwen also contributed to the story.)