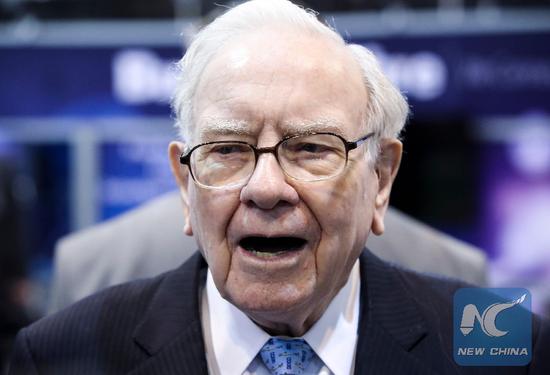 File Photo of U.S. billionaire investor Warren Buffett. (Xinhua/Wang Ying)
U.S. legendary investor Warren Buffett has said that while the United States and China are competing in many areas, they should recognize that the best world is one in which they both prosper.
In a recorded interview broadcast at a forum on U.S.-China investment here Friday, Buffett told Yahoo Finance editor-in-chief Andy Serwer that he believes Washington and Beijing "will always be competitors ... in business, ideas, and all kinds of ways.
"We just have to make sure that competition doesn't get us to a point where we don't realize that the best world is one in which both the United States and China prosper," he said.
The 88-year-old business magnate said the United States, China and Russia "all recognize the dangers of letting competition get out of control," adding that countries "can be competitors without being enemies."
Asked whether Berkshire Hathaway, the multinational conglomerate of which Buffett is chairman and CEO, would "ever make a big acquisition in China," Buffett said "the answer is we would."
Buffett said he knows the laws, the customs, the accounting and the people better in the United States than in other places in the world, which makes it easier for him to make a big acquisition in his home country.
"I have to do more work if I'm looking beyond the borders, but I love the idea of doing it," Buffett said.
Speaking of the Chinese economy, Buffett said he doesn't worry about the impact globally of slower economic growth in China to the tune of 6 to 6.5 percent a year.
"China's going to grow a lot over time. When you think of what's happened since 1949, there's been nothing really like it," he said. "And they really hadn't remotely achieved their potential."
Berkshire is holding its annual shareholders' meeting in Buffett's hometown of Omaha, Nebraska on Saturday.