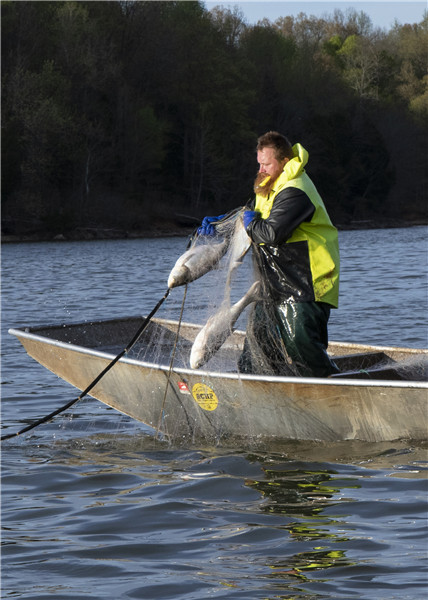 James Berry lands a carp on Barkley Lake, Kentucky.(Photo provided to China Daily)
Species a serious ecological problem in some areas of U.S.
Justin Irwin and James Berry took turns to steer their boat on Barkley Lake in western Kentucky, looking for Asian carp.
It did not take them long to spot a school of fish. Stopping the boat, Berry started to feed a 180-meter-long net into the water as Irwin maneuvered the boat to form the net into a large circle.
With the net in place, they then steered the boat in a circle, banging the hull with a wooden stick. Immediately, carp started to jump out of the water before splashing back in.
A few lucky ones managed to jump outside the net, while others dived deep to escape.
When the flurry subsided, Berry began to pull the net up and pick carp from it one by one.
Repeating this process one or two times, they had enough carp to deliver to the nearby Kentucky Fish Center owned by Angie Yu, who also operates Two Rivers Fisheries, the largest Asian carp processor and exporter in the United States.
Berry and Irwin, half-brothers originally from Washington, came to Kentucky to fish for Asian carp in November.
Irwin is a commercial fisherman who has worked all over the world, most recently in Alaska during the summer. For three months, he worked 20 - to 22-hour days in Alaskan waters. The pay was good enough to cover a year's worth of living expenses, but the work was extremely hard.
One day, Irwin read an internet article about Asian carp and commercial fishing in Kentucky, and immediately became interested.
"As a commercial fisherman, I aim to fish as much as I can," he said.
Irwin and his family were living in Costa Rica, and Berry was running a heavy equipment business in Tennessee, but the opportunity presented by Asian carp drew them both to Kentucky.
They ran into some difficulties at first, starting out with the wrong-sized net and failing to catch a single fish. "We traded a car for a new net, and the rest is history," Berry said.
Their average daily catch weighs from 1,360 to 3,175 kilograms. Last month, they delivered almost 45,360 kg.
"We usually work 10 to 12 hours a day, seven days a week. If we can fish, we fish," Berry said.