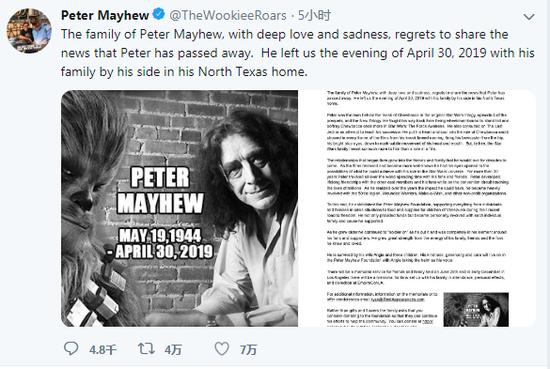 Screenshot of Peter Mayhew's twitter.
The British American actor Peter Mayhew, who is best known for his role in sci-fi thriller series "Star Wars" Chewbacca pasted away at the age of 74 in Texas, U.S., announced his family on Thursday.
"He put his heart and soul into the role of Chewbacca, and it showed in every frame of the films from his knock-kneed running, firing his bowcaster from the hip, his bright blue eyes, down to each subtle movement of his head and mouth," the statement said.
"The Gentlest of Giants"
Mayhew played Chewbacca in the original Star Wars trilogy, episode three of the prequels and the New Trilogy but his face was never seen since he needs to wear the Wookiee costume.
According to a report of BBC, "Star Wars" creator George Lucas had wanted a tall actor to play Chewbacca - but initially considered 6ft 6in (1.98m) tall David Prowse for the role.
However, Prowse instead wanted to play Darth Vader, so Lucas then turned to Mayhew, who at 7ft 2in (2.18m) was chosen purely for his height.
Mark Hamill, who starred as Luke Skywalker in "Star Wars" paid his tribute on Twitter said: "A big man with an even bigger heart who never failed to make me smile & a loyal friend who I loved dearly. "
"I'm grateful for the memories we shared & I'm a better man for just having known him."
A tall and shaggy friend
Chewbacca, tall, shaggy and clothed only in a bandoleer, was introduced to movie audiences in the original "Star Wars" film as co-pilot of the Millennium Falcon, the spacecraft captained by his best friend, Solo, played by Harrison Ford. Solo affectionately referred to him as Chewie.
He is a trusty sidekick who spoke in a language of dog-like growls and bellowing moans understood by his compatriots, Chewbacca was the most notable member of the fictional humanoid Wookiee species of his heavily forested home planet.
The character of Princess Leia, played by the late Carrie Fisher, was more dismissive of Chewbacca at first, memorably snapping: "Will someone get this big, walking carpet out of my way," early in the first "Star Wars" picture.
Chinese fans of the "Star Wars" also paid their tribute on Weibo. "Mr. Mayhew's Chewbacca is classic. May he rest in peace," wrote one Weibo user.
(With input from Reuters.)