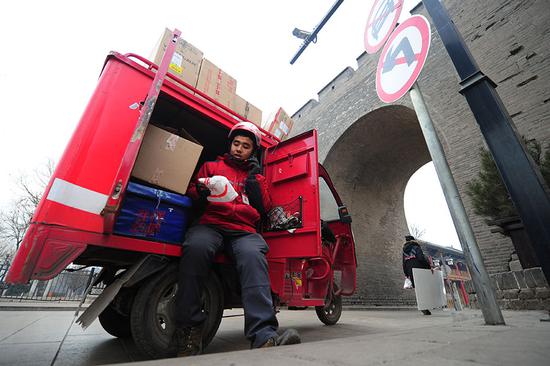 A JD deliveryman gets ready to make deliveries in Jinzhong, Shanxi province. [Provided to China Daily]
Chinese e-commerce giant JD is reducing salaries for its delivery staff across the country by adopting a commission-based payment scheme and reducing benefits, in a bid to reduce costs and boost margins after three senior executives of the company announced their resignation.
JD will replace its couriers' basic salaries with commission-based compensation starting from June, and lower contributions to employees' housing funds from 12 percent to 7 percent, a move that could result in wage reductions, according to media reports.
JD Logistics, the logistics arm of the Beijing-based tech heavyweight, responded via its official Sina Weibo account, saying that as the number of orders from individual clients increases, the company is looking to adopt an incentive plan to reward outstanding employees.
It said that the company's deliverymen in the second and third-tier cities of southern China could earn more than 8,000 yuan ($1,191) under the current pilot scheme. "We expect to add more than 10,000 positions this year as JD Logistics is providing services to more industry customers," JD said.
In the meantime, Cainiao Network, the logistics arm of Alibaba Group Holding Ltd, announced it will employ more than 100,000 deliverymen in the next three years, with an aim to help their average wages increase by more than 20 percent.
According to Cainiao, its parcel pick-up services within two hours has covered 284 cities across the country, which means the company's logistics network has not only covered first-tier cities, but also third and fourth-tier cities and even rural areas.
Industry insiders said JD is facing rising labor costs, and Cainiao's intention of hiring more couriers will intensify competition in the country's logistics and delivery sector.
"Although JD Logistics is beefing up its presence in third-party delivery business and taking steps to motivate staff's enthusiasm, it still lags behind courier companies such as SF Holding, YTO Express, STO Express and Yunda Express," said Lu Zhenwang, CEO of Shanghai-based Wanqing Consultancy.
Lu said JD's individual parcel pickup business is mainly concentrated in first and second-tier cities. "JD has missed the good opportunity to expand its third-party logistics business, and there is little room for growth owing to the fierce competition in the segment."
In October, JD launched parcel delivery services for individuals in 17 cities including Beijing, Shanghai, Guangzhou and Shenzhen, and later extended it to 31 cities. In order to use the service, customers would ask for a pickup through the firm's app.
Yang Daqing, a researcher at the China Society of Logistics, said such adjustment will bring about some negative effects in the short term, but if JD Logistics handles the issue properly, it will become more competitive after the transformation.
Apart from the salary cut for the delivery unit, JD is seeing a round of shake-ups on its management team. Following recent resignations of its chief technology officer Zhang Chen and chief legal officer Long Yu, the tech giant announced last week that Lan Ye, its chief public affairs officer, would be leaving his post for "personal and family reasons" on May 31.
This is the latest senior executive departure for JD, which said in February that it would lay off 10 percent of its senior executives above vice-president level this year.
The company is now facing tougher competition from rivals such as Alibaba and Pinduoduo. Chen Tao, an analyst at the Beijing-based consultancy Analysys, said JD's reach in first and second-tier cities is high, or close to saturation, adding it should seek new growth engines and pour more resources into smaller cities and rural areas.