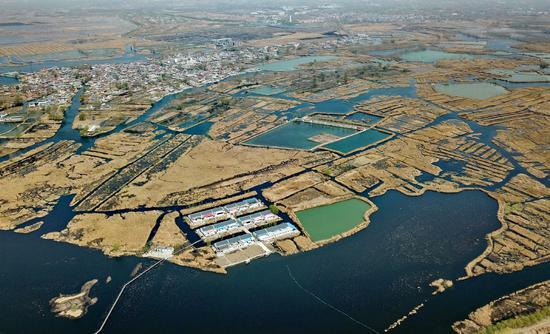 An aerial view of Xiongan New Area. (Photo/Xinhua)
Special: NPC, CPPCC Sessions 2019
China's Hebei Province will soon start substantial large-scale construction of the Xiongan New Area, as the top-level design has been completed, Hebei's Vice Governor Chen Gang, who also heads the management committee of Xiongan, said on Tuesday during this year's Two Sessions.
In order to achieve the best planning of the area, Hebei Province has organized more than 1,000 domestic and international experts, 200 working teams and 2,500 technical professionals who are "working around the clock", according to Chen.
So far, the master plan and 26 special plans for flood control, earthquake resistance, energy, integrated transportation, ecological protection and more, have been completed.
Chen stressed that more efforts are needed to implement the blueprint of the new area's development, and the role of the government and the market should be coordinated.
In April 2017, China announced the establishment of the Xiongan New Area, which will span three counties in Hebei Province about 100 km southwest of Beijing.
It will be the location for Beijing's non-capital functions, a new home for Beijing's colleges, hospitals, business headquarters and financial and public institutions.
So far, work on projects including intercity railways between Beijing and Xiongan and the afforestation project have begun, and a public service center has already gone into use.