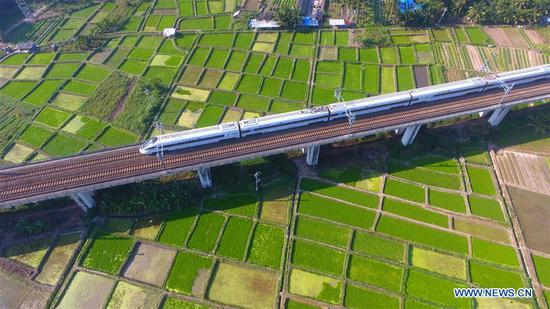 A bullet train runs in Qionghai City, South China's Hainan province, Jan 18, 2018. (Photo/Xinhua)
Sustainability will continue to be the top priority amid growing concerns about global economic growth, experts said on Monday at the Asian Financial Forum (AFF).
The current rhetoric and mentality may usher in a new era of protectionism and populism, while rising geopolitical tensions, volatile financial markets and a deteriorating economic outlook makes it tough to post sustainable economic growth, said Vincent Lo Hong-shui, chairman of the Hong Kong Trade Development Council.
Jin Liqun, president and chairman of the Asian Infrastructure Investment Bank (AIIB), said that it was an opportune time to redefine the concept of growth.
"Growth is not everything. It makes sense only when it has achieved all its dimensions, rather than a mere figure or gross domestic product," Jin reckoned.
If a 9-percent growth is based on 3 percent from pollution and another 3 percent from cleaning up the pollution, then such a growth model is far from sustainable, he said.
Last week, the Beijing-headquartered multinational development bank set up a $500 million fund for infrastructure development in emerging Asian markets, with the aim of promoting green and sustainable investments in the region. The AIIB Asia ESG (environmental, social and governance) Enhanced Credit Managed Portfolio is expected to focus largely on infrastructure-related bonds.
In her opening address, Carrie Lam Cheng Yuet-ngor, the chief executive of Hong Kong Special Administrative Region, reiterated her confidence in the seminal role played by the SAR in driving regional growth. The city's growth potential and competitive edge will continue to be buttressed with a huge ribbon of AIIB-funded big-ticket projects and its strategic location along the Belt and Road Initiative.
The financial hub, which has made great strides in green finance and financial technology, is focused on developing the economy in a sustainable manner. "Our inaugural government green bond will soon be issued and it comes with a borrowing ceiling of HK$100 billion ($13 billion)," said Lam.
Pierre Gramegna, finance minister of Luxembourg, said: "As trade tensions are rising, strengthening cross-border trade ties and reinforcing the theme of sustainability remains perhaps the sole and only driving force. A triple A credit rating is not enough anymore. We also need to have a triple A in sustainability.
"No nation can stand aloof. It should be reminded that sustainability is no longer a national issue. We should look at it from a multinational and multi-continental scope," he said.
The two-day forum will see over 130 policymakers, financial and business leaders and investors from countries and regions across the globe discussing economic opportunities and challenges as well as financial innovation and technology. The event has a theme of "Creating a Sustainable and Inclusive Future".