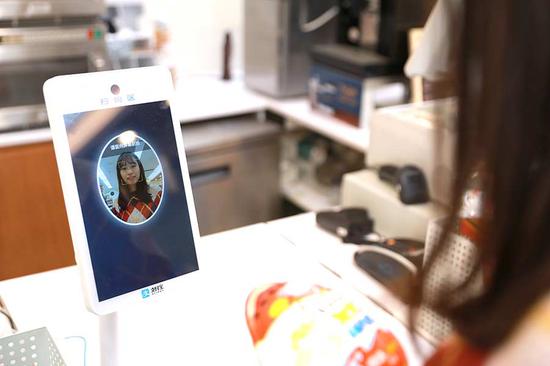 An Alipay employee tests the Dragonfly, formerly known as 'Smile to Pay', at a convenience store in Hangzhou, capital of Zhejiang province. [Photo provided to China Daily]
Mobile payment giant Alipay on Thursday announced a major upgrade to its 'Smile to Pay' service, aiming to make its facial-recognition process more accessible to merchants and customers.
The new version, dubbed Dragonfly, is essentially a plug-and play device that Alipay claims to be just one-tenth the size of a traditional self-service POS machine and can be placed in a backpack.
Compared with its previous generation, Dragonfly is adaptable to a wide array of terminals and does not require merchants to overhaul their existing Enterprise Resource Planning system. This lowers the threshold for adopting facial-scanning facilities, said Zhong Yao, general manager of Alipay's internet of things business.
"The cost to deploy Dragonfly is 80 percent lower than traditional self-service POS machines which mainly serve large businesses, eliminating barriers to adoption for small and micro merchants, such as convenient stores and fresh market stalls," he told an Alipay Open Day event in Shanghai.
The new gadget includes a 3D structured light camera to improve accuracy, and an upgraded processor to speed up payment times.
Tens of thousands of merchants across 300 cities in China offer Alipay's facial recognition payment. Zhong said the updated functions will be introduced to all Alipay self-service POS machines-including the KFC canteen in Hangzhou where the solution debuted a year ago.
Yuan Linhua, assistant vice-president of marketing at supermarket chain CP Lotus, noted that with the deployment of Alipay's Smile-to-Pay solution, a cashier now can handle up to three POS machines at once, and the efficiency of supermarket checkouts has improved by 50 percent.
Jiangxi Provincial People's Hospital has installed 40 of the machines. According to deputy director Huo Yanan, the move has effectively shortened patient queueing times and reduced the burdens on administrators.
When combined with certain hardware and software innovations, the solution can also effectively prevent forgery and ensure account safety, even if a user attempts to use still photos or recorded videos to abuse the system.
In a video detailing how the payment process works, one woman uses the machine in a variety of different appearances-with a variety of makeup styles and an assortment of wigs. The machine still accurately recognizes her facial features each time for payment.
While preventing biometric spoofing, the system extracts the minimum amount of facial feature data necessary to verify the payment, the company said. The data is algorithmically encrypted to ensure user privacy and cannot be accessed by merchants.
Facial-recognition payment is theoretically a more secure and convenient method than the conventional use of passwords, according to Pan Helin, a postdoctoral fellow at the Chinese Academy of Fiscal Sciences. He predicts the sector to experience "explosive" growth in the coming three years.