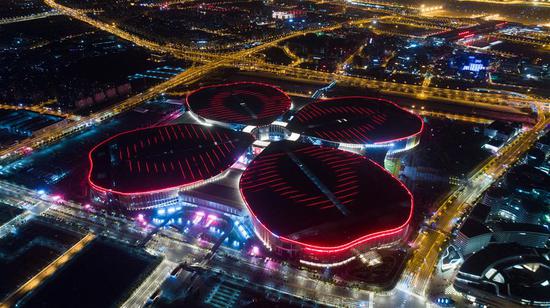 Aerial photo taken on Oct. 21, 2018 shows a night view of the National Exhibition and Convention Center (Shanghai), the main venue to hold the upcoming first China International Import Expo (CIIE), in Shanghai, east China. (Xinhua/Ding Ting)
Special: China's First Import Expo
With a one-week countdown to its first import expo, China stands ready to present the world with a grand gathering of goods and better thoughts on trade in Shanghai.
The China International Import Expo (CIIE), the world's first import-themed national-level expo, is slated to kick off next Monday, with Chinese President Xi Jinping set to deliver a keynote speech at its opening ceremony.
With the slogan "New Era, Shared Future," the CIIE will strengthen business ties, open China's market wider and garner support for free trade.
BUZZING BAZAAR
Expectations are mounting for the eye-catching new products and latest technologies to be showcased in the lucky clover-shaped venue of the expo as enterprises flock to one of the world's largest importers to introduce products and services.
More than 3,000 companies from over 130 countries have confirmed participation in the expo, with a total booth area of 270,000 square meters, Vice Commerce Minister Fu Ziying said Monday.
The area, already expanded twice from the original plans, will be equivalent to the size of 38 football pitches and house more than 160,000 domestic and international buyers.
The number and value of items on display will shatter the record of previous fairs in China, and 5,000 exhibits will make their debut, Fu said.
Arancha Gonzalez, executive director of the International Trade Center, called the CIIE "a very unique fair" and "an example of how international trade can be win-win."
"It signals a commitment of China to move from being a global factory to being a global market," Gonzalez said.
Twenty foreign companies, among over 1,000 that have submitted pre-registration, have signed up for the second CIIE scheduled next year.
MORE THAN A FAIR
The expo is unique not only for its theme but also for its turnout and kaleidoscopic exhibits. As President Xi has reiterated, the CIIE will not be just another "ordinary" expo.
Besides bustling business exchanges, the expo will feature a forum on global economy and trade with a star-studded line-up to provide thoughts on shared prosperity.
The Hongqiao International Economic and Trade Forum, with the theme "spurring new vitality of global trade, creating an open and win-win scenario," will be attended by over 2,000 government officials, international organization leaders, renowned entrepreneurs and academics from over 130 countries and regions, Fu said.
Speakers and panelists will include Alibaba's Jack Ma, co-founder of Microsoft and chairman of TerraPower Bill Gates, and Jose Angel Gurria, secretary-general of the Organization for Economic Co-operation and Development, according to CIIE's official website.
The forum's three parallel sessions, with a focus on trade and opening up, trade and innovation, and trade and investment, respectively, will discuss such major issues as the new impetus for economic globalization and the liberalization and facilitation of trade and investment, Fu said.
"We believe CIIE will help countries showcase their national image as well as serve as an open platform for cooperation in international trade," he said. "The expo will help advance economic globalization."
Liang Ming, a senior researcher with the Chinese Academy of International Trade and Cooperation, called the expo "trail-blazing" and a "major action" in building an open world economy amid rising protectionism.
"The CIIE fully reflects China's firm support of the multilateral trade mechanism and development of free trade," he said. "China, by opening its door wider to imports, will strongly boost global free trade and inject vitality into the world economic growth."