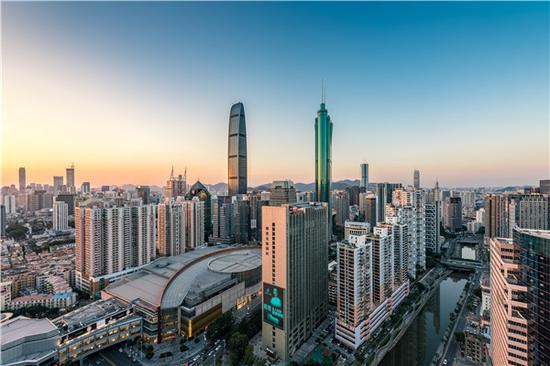 Luohu district in Shenzhen, which used to be a poor village, is now a flourishing residential area with modern apartment buildings. (Photo by Luo Haiming/China Daily)
Special: 40YearsOfReform
Hong Kong neighbor joins top 5 in world competitiveness ranking
For the first time, Shenzhen, Guangdong Province, ranks among the top five economically competitive cities worldwide, with four other Chinese cities-Hong Kong, Shanghai, Guangzhou and Beijing-ranking among the top 20, according to a report jointly released by the Chinese Academy of Social Sciences and United Nations-Habitat.
The Global Urban Competitiveness Report 2018-2019 was released at New Global Cities: Nanjing Internationalization Development Forum, held in Nanjing, Jiangsu Province, on Monday. It has established an urban economic competitiveness ranking system with factors such as infrastructure, financial service, technological innovation and human resources taken into consideration to evaluate the quality of 1,007 global cities with populations over 500,000.
Chinese cities have developed quickly their economic competitiveness in recent years, and the country's urban development has entered a new phase of overall upgrading, the report said.
In 2008, only six Chinese cities ranked among the global top 100 in economic competitiveness, with the number rising to 18 this year.
"Twelve city clusters account for more than 60 percent of China's overall population, and their overall GDP growth has increased from 71 percent in 2006 to 82 percent of China's overall GDP," said Lu Mai, vice-chairman and secretary-general of the China Development Research Foundation.
The report says the collective rise of Chinese cities is the most significant event in the development of global cities since 1978.
"In the past four decades, China has achieved rapid urbanization thanks to its reform and opening-up, which was synchronous with the process of globalization and the formation of a global industry chain," said Ni Pengfei, co-writer of the report and director of the CASS Center for City and Competitiveness.
"Chinese cities rose collectively in the past four decades regarding their scale of urban population growth, which has had a great impact on the global urbanization process," said Ni.
But Chinese cities still have much to do to improve sustainable development. Only Hong Kong ranks among the top 20 for urban sustainability competitiveness.
Sustainable development capacity, which refers to a city's soft capacity to improve and sustainably satisfy residents' long-term social wellbeing, is of great significance to urban competitiveness.
"People not only need the opportunity to advance their careers, but also to develop their souls," said Michael D. Hales, a senior partner at AT Kearney.
Ni acknowledged that Chinese cities still lag in sustainable competitiveness, but he forecast that conditions are in accordance with urban development's basic principle: urban development should be initially driven by economic growth.
He said he is also optimistic about Chinese cities' potential to improve sustainable competitiveness.
"Cities that rank tops in sustainable development are all mature cities, and have developed for more than 100 years. We expect that Chinese cities can soon get to that point," said Marco Kamiya, coordinator of the urban economy and finance branch at UN-Habitat.