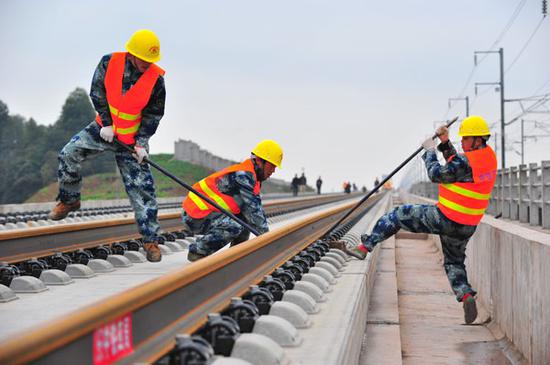 Workers from China Railway Construction Group lay tracks along the Chengdu-Guiyang high-speed railway line. (Photo by Cao Ning/For China Daily)
The decline in China's infrastructure spending is likely to be stemmed next year, with more projects expected to start in the next three to five years and sufficient funding support, according to an official with the nation's top economic regulator involved in the approval of fixed-asset projects.
"Expectations for next year's infrastructure spending are not as pessimistic as some people have predicted, at least the trend is unlikely to be the same compared with this year's," said the official with the fixed-asset department of the National Development and Reform Commission, who declined to be identified due to lack of authority to speak to the media.
That is because projects in the pool remain "abundant", he said, referring to those expected to commence in the next year and in the next three to five years, mainly in the transportation and urban rail sectors.
In response to concerns over a possible shortage of finance, as funding channels may be tightened as the government is committed to curbing local government debt risks, the official said there is no major shortfall in funds supporting infrastructure projects, as the money mainly comes from special funds allocated by local governments.
In the meantime, project approval may tend to speed up in the near future, after the government released guidelines to accelerate the approval process, the official said.
Local projects - those not in the national key project pool, only require approval from local bureaus of the National Development and Reform Commission.
The comments came as concerns over infrastructure spending increased after data appeared to dampen economic prospects.
A thorough government crackdown on risky lending and the hidden debt of local governments added to concerns over funding and a possible continued slowdown of investment in infrastructure projects.
Only a major relaxation of off-sheet financing and the issuance of special bonds will help infrastructure spending bottom out, said a report by China Merchants Securities released in September.
Local governments have been required to hasten their pace of issuing special bonds to fund infrastructure projects, according to an earlier notice issued by the Ministry of Finance.
Local governments are allowed to issue 1.35 trillion yuan ($196 billion) of special bonds this year.
Some improvements have been made after the government implemented a number of measures.
From January to September, the decline of infrastructure projects intended to be implemented narrowed by 0.1 percentage point compared to the January-August period, according to report by the commission.