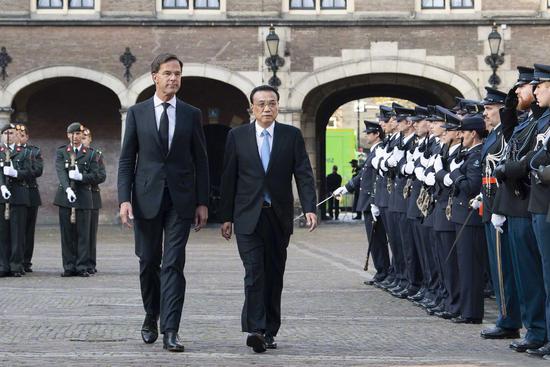 Premier Li Keqiang is accompanied by Dutch Prime Minister Mark Rutte at a welcoming ceremony at the Binnenhof, the Dutch government center, in The Hague, Netherlands, during his three-day official visit, which began on Sunday. (Photo/Xinhua)
China will further expand its market access in manufacturing and financial and other services to worldwide investors to continue its opening-up, Premier Li Keqiang said on Monday.
Li made the remark when he jointly met the media with Mark Rutte, prime minister of the Netherlands, in The Hague.
Li said agreements worthy of close to $10 billion dollars are expected to be reached between businesses of both sides during his visit.
"This shows that China is opening its market wider to the Netherlands. It also demonstrates that we have big potential for cooperation," Li said.
Li told reporters that some European companies have already benefited from China's new opening-up efforts in easing equity share limits in basic manufacturing industries.
The country's opening-up policy provides a level playing field for businesses from all countries, he said. Businesses worldwide are expected to take advantage of the possibilities created by China's new round of reform and opening-up, enabling mutual benefit and common development, he said.
China is willing to further cooperate with the Netherlands in agriculture, manufacturing and services, Li said.
Calling the graying of the population a challenge facing both countries, Li said China is ready to learn from the experiences of the Netherlands and expand cooperation with the country in taking care of the elderly, as well as in clean energy and urbanization.
The world now stands in a complex situation with uncertainties increasing, Li said, and it is crucial to forge consensus and jointly protect multilateralism and free trade.
"Without free trade, there is no such thing as fair trade. And free trade cannot be sustainable without fair trade," Li said. "China is ready to work hand in hand with the Netherlands to discuss and coordinate in improving the multilateral system."
During his talk with Rutte, Li said China is willing to strengthen coordination with the Netherlands on reform of the World Trade Organization. WTO reform should firmly maintain the principle of free trade and openness, protect the legitimate rights and interests of developing countries and reduce the development gap, Li said, adding that coordination and consensus are crucial during the process.
China firmly upholds the UN Paris climate change agreement and will make great efforts to fulfill its promises, Li said.
Rutte said that the Netherlands is willing to consolidate mutual political trust with China and work actively with China in expanding cooperation in third-party markets, a circular economy based on reuse and smart cities.
It is also willing to work with China to address global challenges like climate change and in maintaining rule-based multilateralism and a free-trade system, Rutte added.
The two leaders witnessed the signing of a number of cooperative documents in the areas of trade and investment, finance, energy and agriculture.
The trip marks the first by a Chinese premier to the country in 14 years. During Li's three-day stay in the country, he will meet with Dutch King Willem-Alexander.