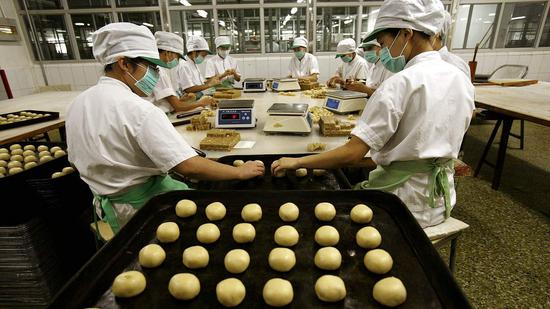 Workers preparing mooncakes at a Beijing Daoxiangcun Foodstuff Co., Ltd's factory.
Nearly all Chinese will know what you are talking about when you mention Daoxiangcun. A time-honored Chinese bakery brand that gets its reputation from both northern-style snacks of Beijing's Daoxiangcun Foodstuff Co., Ltd and southern-style cakes of Suzhou Daoxiangcun Food Industry Co., Ltd in east China's Jiangsu Province.
The two bands, functioning under the same brand name for over a century, have been fighting a legal battle over the trademark since 2006.
In a latest ruling on October 12 , the Suzhou Industrial Park People's Court prohibited Beijing's Daoxiangcun Foodstuff Co., Ltd from printing the three-Chinese-characters trademark on the packaging of its pastry products.
The court has also asked the defendant to pay 1.15 million yuan (around 166,230 US dollars) compensation to Suzhou Daoxiangcun within 10 days of the judgment.
However, in September, the Beijing Intellectual Property Court issued an injunction against Suzhou Daoxiangcun Company, ordering the pastry maker to pay compensation of 30 million yuan (around 4.3 million US dollars) to Beijing Daoxiangcun Foodstuff Co., Ltd for trademark infringement and unfair competition.
The two contrasting verdicts have created a public impression that the two courts ruled against each other in a bid to protect local businesses.
"The two verdicts have been delivered by first instance courts and are not the final rulings. If neither sides make an appeal in higher courts, legal documents will enter into force and character label "Daoxiangcun" cannot be used on pastry products of both companies," Yue Shenshan, a lawyer at Beijing-based Yuecheng Law Firm, told the CCTV Mandarin on Saturday.
Since the brand holds great commercial value, apart from the litigious acts, the lawyer suggested that the court should consider factors like historical background, business management and market order before reaching a final judgment.
Yue Shenshan also advised the Supreme People's Court to keep a close watch on the case.
Over the years, the attack and defense maneuvers between the two pastry makers have never stopped.
Founded in 1773, Suzhou Daoxiangcun registered the three Chinese characters as its trademark in 1983 listed in Class 30 "Cookies, Bread, Cake".
Its Beijing competitor, who traces its history back to 1895, registered in 1997, but for dumplings and glutinous rice cakes. However, both companies encroached upon each other's territories by producing similar products.
The war broke out in 2006 when Suzhou Daoxiangcun applied at the State Administration for Industry and Commerce (SAIC) to register a fan-shaped logo as its trademark.
After the application was granted, Beijing Daoxiangcun appealed to SAIC's trademark review board, arguing that because the fan-shaped logo contained the three Chinese characters for Daoxiangcun, it infringed on its 1997 trademark.
In 2013, the review board concluded that the Suzhou Daoxiangcun logo registration should be revoked. Suzhou Daoxiangcun sued, and the Beijing High Court in 2014 again ruled that its logo was too similar to Beijing Daoxiangcun's trademark, and denied registration.
But Suzhou Daoxiangcun has continued to use the fan-shaped logo and the three-Chinese-characters trademark despite the court's ruling.
In 2015, Beijing Daoxiangcun filed the "trademark infringement" lawsuit at the Beijing Intellectual Property Court.
In 2016, Beijing Daoxiangcun asked Suzhou Daoxiangcun to add two Chinese characters "Suzhou" in its trademark and stop selling "Daoxiangcun" pastries online.
In 2017, before the Mid-Autumn Festival, the Beijing Intellectual Property Court issued a ban, ruling Suzhou Daoxiangcun to remove its infringing products including mooncakes, bread and other pastries from e-commerce platforms.
Many believe that the trademark dispute is a "lose-lose" battle for both companies. According to legal experts, co-existence, co-prosperity, co-maintaining and co-building of the time-honored brand should be ruled.