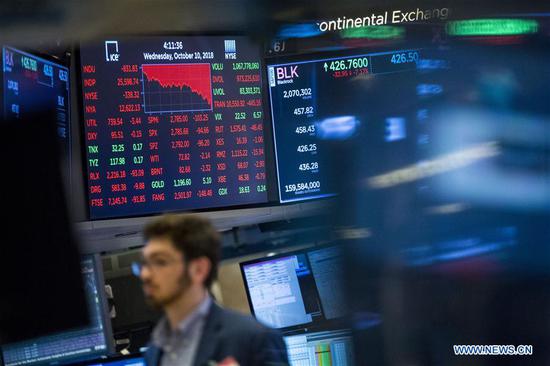 The trading information is seen on the electronic screen at the New York Stock Exchange in New York, the United States, Oct. 10, 2018. (Xinhua/Wang Ying)
Fears of rising rates and a pivot out of technology shares were the main reasons for the plunge of three major U.S. stock indices on Wednesday.
Both the Dow and the SP 500 erased more than 3 percent for the day, posting their biggest one-day drops since early February. The Nasdaq fell over 4 percent, the worst day since June 2016.
RISING RATES FEAR
Investors have been concerned that the rates are rising too far and too fast that the economy will potentially be derailed.
The benchmark 10-year Treasury note yield hit 3.26 percent on Tuesday, the highest level since 2011. On Wednesday, two-year Treasury yield hit 2.91 percent, its highest level in a decade.
Investors have been grappling with rising rates for about a week amid robust economic data and signs of inflation.
The unemployment rate declined to 3.7 percent in September, the lowest in 49 years, according to a report released by the Labor Department on Friday.
Average hourly earnings for all employees on private nonfarm payrolls rose by 8 cents to 27.24 U.S. dollars. Over the year, average hourly earnings have increased by 73 cents, or 2.8 percent.
The report reinforced the view that the labor market is near full employment and wages have accelerated higher.
On Wednesday, the Labor Department reported that the country's producer prices increased 0.2 percent in September, reversing an unexpected decline in August and in line with expectations.
Fed Chair Jerome Powell last week said that the U.S. central bank had a long way to go before interest rates hit neutral, indicating that more hikes could be on the horizon.
Strong data and commentary from Fed officials could be bullish for equities, but that comes with the side effect of having concerns on more inflation and interest-rate increases, which in turn might be negative for equities, experts noted.
"It seems that some traders feel that U.S. interest rates are moving up faster then previously believed," said John Monaco, trader at Wellington Shields & Co. LLC.
TECH SELL-OFF
Wednesday also marked tech shares' worst day in more than seven years.
The S&P 500 Information Technology Sector went down by 4.77 percent, with all 65 members of the index ending on a downbeat note. Moreover, 52 components in the sector were down at least 10 percent from their 52-week high.
The tech sector includes the largest companies by market cap in the United States and those which have been the biggest contributors to the bull market.
Shares of Amazon declined 6.15 percent, while Netflix slid 8.38 percent. Facebook and Apple also fell more than 4 percent each.
Experts said there were not much to read into the tech sell-off. Rising rates fear is putting pressure on all sectors, and tech suffered the most probably because the sector had outperformed others lately.
"Just because the tech index is widely held by funds. It's easier to sell the stocks that you have a profit in. Tech stocks had been up a lot lately," said Monaco.
As of Wednesday's close, tech sector was up 17.78 percent over the year and posted a 10.35-percent year-to-date return.
EARNINGS SEASON
Rising rates fear comes as investors brace for the upcoming earnings season, with J.P. Morgan Chase, Citigroup and Wells Fargo scheduled to report later this week.
Investors expect a strong earnings season could lift the market up.
Third quarter earnings are expected to increase 21.5 percent from the same period last year. Excluding the energy sector, the earnings growth estimate declines to 18.5 percent, according to Thomson Reuters.
More:
U.S. stocks close sharply lower amid rising rates fears
U.S. stocks closed sharply lower on Wednesday as rising rate fears and tech share sell-off rattled the market.
The Dow Jones Industrial Average decreased 831.83 points, or 3.15 percent, to 25,598.74. The S&P 500 was down 94.66 points, or 3.29 percent, to 2,785.68. The Nasdaq Composite Index fell 315.97 points, or 4.08 percent, to 7,422.05.