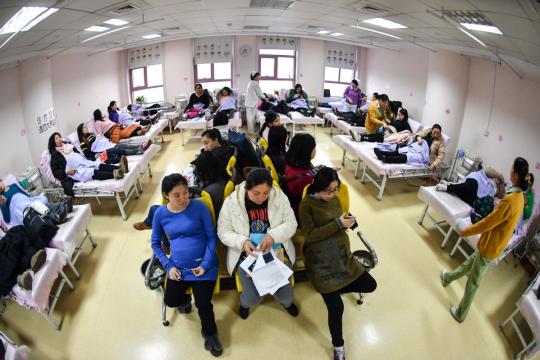 Pregnant women wait to undergo fetal heart inspections at a gynecology and obstetrics clinic in Nanjing, capital of Jiangsu province. (Photo/ China Daily)
Pregnant women wary of screening after rash of 'false-negative' results. Yang Wanli reports.
Noninvasive prenatal testing, which can detect Down syndrome and other chromosomal conditions by checking a sample of the mother's blood, has been used in Western countries for many years without controversy.
In China, NIPT, as it is known, was piloted in 2015, and official permission for its clinical use nationwide was granted the following year. Now, though, the test is facing a crisis of trust.
In July, an 8-month-old boy from Hunan province was diagnosed with mental disabilities and physical deformities, despite having been assessed as low risk after his mother had an NIPT test during pregnancy.
Although it was later proved that the test could not have detected the boy's problems, the case triggered public concern about the accuracy of NIPT after dozens of women were reported to have given birth to babies with Down syndrome after receiving "false-negative" results.
Contributory factors
According to the most recent information available - a report by the National Health and Family Planning Commission - the rate of birth defects nationwide was 5.6 percent in 2012, meaning about 900,000 babies were born with defects.
Moreover, one in 10 families in China included a child with a disability, according to the report.
"In addition to factors such as environmental pollution, exposure to radiation, or unhealthy lifestyles, genetic problems are among the most common causes of a large number of birth defects such as Down syndrome, which retards physical and mental development," said Duan Tao, director of the Shanghai Prenatal Diagnostic Center.
Duan said genetic disorders can be screened and diagnosed prenatally via ultrasound examination, conventional blood tests that measure the levels of two specific hormones and two proteins in the mother's blood with an accuracy rate of about 60 to 70 percent, and NIPT, which has an accuracy rate of 99.3 to 99.5 percent.
NIPT detects chromosomal disorders by analyzing a minute amount of placental DNA in the mother's blood, according to Zhou Daixing, CEO of Berry Genomics, one of China's largest next-generation sequencing technology companies.
In the past seven years, the company has provided NIPT services to about 2.8 million women. It claims detection sensitivity of 99.5 percent, based on clinical follow-ups of more than 1 million samples.