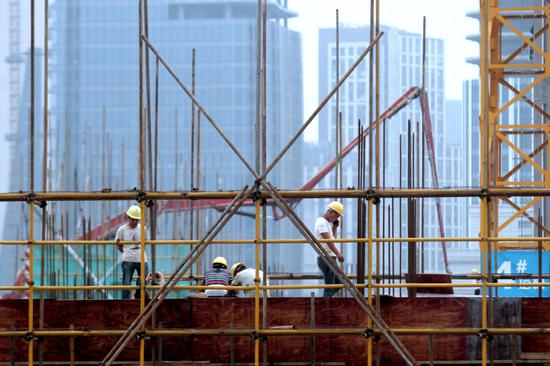 Builders work at a property construction site in Huai'an, Jiangsu Province. (Photo by Zhou Changguo/For China Daily)
China will work harder to promote infrastructure investment with a focus on areas that can efficiently boost productivity, address weak links and promote high-quality growth, according to the nation's top economic regulator.
Meng Wei, a spokeswoman for the National Development and Reform Commission, said on Tuesday that the country will channel resources to stabilize infrastructure investment growth and boost efficiency while containing government debt.
China will roll out new measures to attract capital into agriculture, poverty alleviation, environmental protection and other areas, as part of the country's broader push to improve investment efficiency, Meng said at a news conference in Beijing.
To date, over 130 water conservancy projects out of 172 being planned are under construction, with total investment exceeding 1 trillion yuan ($146 billion). Several railways are also being built.
"We will work hard to kick off a number of new projects, especially those in China's central and western regions," said Ma Qiang, deputy head of the NDRC's infrastructure department.
"Also, more effort will be made to maintain good momentum in transportation infrastructure investment," Ma added.
The move comes after growth of infrastructure investment continues to slow in China. In the first eight months of this year, infrastructure investment increased 4.2 percent year-on-year, down from 5.7 percent for January-July, according to the National Bureau of Statistics.
Feng Yongsheng, a researcher at the Chinese Academy of Social Sciences, said this round of infrastructure policies comes with a clear purpose, putting heavy emphasis on strengthening the country's capabilities in weak areas.
"It is designed to address unbalanced development and to help less-developed areas prosper with good infrastructure.
"Also, the government attaches high importance to ensuring efficiency in capital utilization," Feng said.
Such characteristics will help the policies play an effective role in boosting infrastructure investment in the next couple of months, he added.
On Tuesday, the NDRC also highlighted that a mechanism will be established to promote cross-ministry cooperation to facilitate communication, boost working efficiency and implement better government oversight in investment policies.
Infrastructure investment could help China offset negative effects of Sino-US trade tensions partly because domestic investment is a fundamental driving force for the economy, said Zeng Kanghua, a professor at Central University of Finance and Economics in Beijing.
Infrastructural improvements can prompt more enterprises, both domestic and foreign, to invest and thrive in less-developed regions, thus boosting local economies, Zeng said.