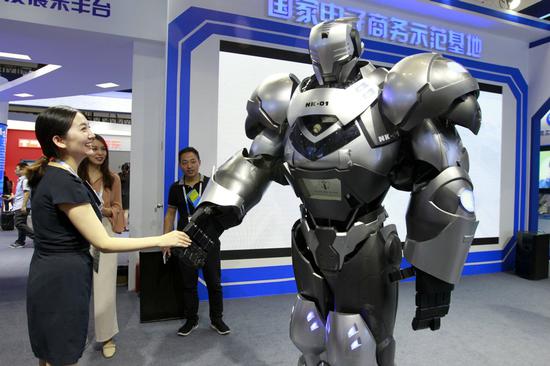 A visitor to a service trade expo interacts with a robot on display at the event. (Photo by A Jing/For China Daily)
China's trade in services reached a record high of 2.98 trillion yuan ($436 billion) between January and July, which was bolstered by the nation's economic resilience and increasing efforts to drive the service sector.
The Ministry of Commerce said that in the first seven months of 2018, China's total service trade grew 9.9 percent year-on-year. Trade in services refers to the sales and delivery of intangible products such as transportation, tourism, telecommunications, construction and advertising.
The ministry attributed the solid expansion to stable domestic economic growth, a set of opening-up measures, and favorable policy support for the service sector.
"The service trade continued to sustain a steady growth rate, and its structure continued to optimize," the ministry said. Trade in emerging services, such as telecommunications and insurance, grew 20.3 percent year-on-year in the first seven months, 10.4 percentage points higher than the overall service trade.
Bai Ming, a researcher at the Chinese Academy of International Trade and Economic Cooperation, said: "The optimized structure of the service industry is influenced by China's economic transformation and upgrading.
"The competitiveness of China's services trade has been strengthened over the past years, and the nation is gradually shifting from being a power in goods trade to a services trade power," Bai said.
China has been making efforts to shift its economy toward a growth model driven by consumption, services and innovation. The government has taken steps to promote service trade, and gradually open up sectors including finance, education and culture. In June, the State Council launched a pilot program in several municipalities and provinces to provide more flexible rules to boost service trade.
Li Jun, director of the ministry's international service trade research institute, said the service sector's share of economic growth has been increasing, and there's vast potential for its further development. "The expansion of the service sector coincides with China's moves to further open up to the outside world," Li added. "The sector's opening-up not only requires the relaxation of restrictions on market access, but also makes the application procedures more transparent, regulated and simplified."