Special: 40YearsOfReform
○ Japanese enterprises first came to China around the time of the reform and opening-up policy
○ At first, China was an ideal manufacturing base, but Japanese companies were early to see its potential as a consumer market
○ Japan and China are now economic competitors, and it is unclear whether they will engage in win-win cooperation or destructive competition
For most people born in the 1980s in China, Japanese goods were a part of their life. As young children, they may remember a green Sharp refrigerator placed in the living room next to a 29-inch Sony color TV set on which they watched cartoons during every summer holiday.
As young teens, they may have hid a Pansonic pocket stereo under the pillow from their parents after bedtime. As university students, they admired fashionable but cheap T-shirts in Uniqlo, and used Shiseido's low-end beauty products.
The sequence of these Japanese goods' appearance in China reflects Japanese enterprises' development in China over the past 40 years. During that time, China has grown from a cooperation partner into a competitor for Japanese enterprises.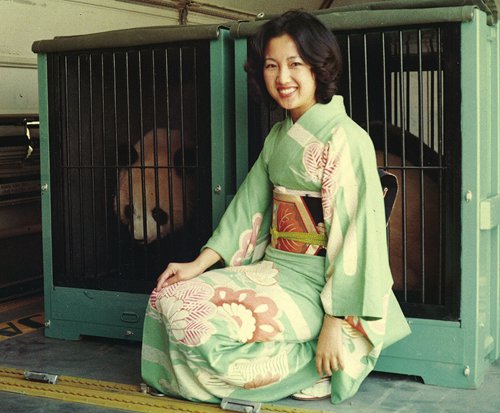 A Japanese woman has her photo taken with two pandas, Kangkang and Lanlan, on their way from Beijing to Tokyo in 1972. (Photo/Courtesy of Japan Airlines)
Panda diplomats
Kakuei Tanaka, the former Japanese prime minister, visited China on September 25, 1972, and China and Japan inked a joint communiqué, ending their long state of war and attaining normalization of diplomatic ties.
A month after the prime minister's visit, Japan Airlines (JAL) flew China's "panda diplomats" Kangkang and Lanlan to Japan. The two endangered animals enjoyed profound love from the Japanese people after they settled at Ueno Zoo in Tokyo.
Two years later, JAL established four branches in Beijing and Shanghai, and launched regular flights between the two countries in the same year. The nations saw more intensive economic exchanges after China and Japan signed a treaty of peace and friendship in 1978.
China's first batch of air stewardess accepted their cabin service training at JAL's assembly building in Haneda, and a Boeing 747SP jet airplane that China bought was entrusted to JAL for maintenance in 1981.
From the 1980s to the mid-1990s, China was thirsty for Japan's experience on its economic governance as the Chinese government endeavored to transform its economy from a planned system to one incorporating market-oriented mechanisms.
Japan took a fancy to China's potential market, hoping to grab a bigger portion amid competition with firms from other countries and regions. Therefore, massive investments and advanced technologies poured into China from Japan.
Canon's entry into China took place against this backdrop, when Deng Yingchao, the late chairwoman of the National Committee of the Chinese People's Political Consultative Conference, expressed the hope that Canon could "assist China to develop its precision industry" during her visit to the company's headquarters in Japan in 1979. Kaku Ryuzaburo, Canon's president, agreed pleasantly.
After 37 years, 68-year-old Hideki Ozawa, who is the incumbent executive vice president of Canon, still feels thrilled about his first trip to China.
"China was not a rich country at that time, but I was sure that China would see huge development in the near future," Ozawa told Global Times. He has been working in China for 18 years, including his stay in Hong Kong.
Doing business in China was not easy at first. Mr Tanaka, a retired technician from Daihatsu Motor, recalls a business errand to Tianjin in 1984. Because there were no direct flights from Osaka to Tianjin, he had to take off in the early morning from Osaka, then fly to Beijing and take a bus at night from Beijing to Tianjin.
Akira Yonezawa, JAL's senior vice president in China, told the Global Times that their flights had to stop at multiple cities to beckon as many passengers as possible to help sell enough tickets to cover the high operating costs. The flight was like a bus in the air.
Mr Tanaka recalled a terrifying bus trip from Beijing to Tianjin that topped off his voyage. "Fear topped all my feelings," said Tanaka.
"There was no lighting along the road from Beijing to Tianjin, and the driver never turned on the car light to save electricity. It was dark both inside and outside and I had no idea about how I arrived in Tianjin. It was just like taking an adventure to China by a bus in the air," quipped Tanaka.