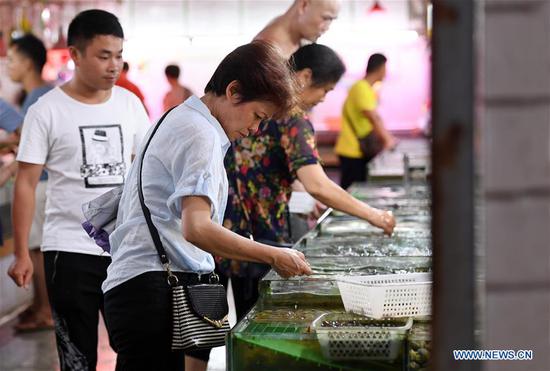 Customers buy seafood in a market in Nanning, South China's Guangxi Zhuang autonomous region, June 9, 2018. (Photo/Xinhua)
Economy sound, says NDRC official, with major monetary easing unlikely
There is little chance inflation will surge in China as risks are well under control and the government is set to avoid immediate monetary easing, officials and analysts say, although it will face some inflationary pressure mixed with an economic slowdown.
"China's inflation is expected to remain stable and there is little likelihood of seeing a significant increase since the economy remains sound," said an official from the National Development and Reform Commission who declined to be identified, adding that the effects of external pressures, such as commodity price fluctuations and potential tariffs, remain under control.
"As the government looks to continue to contain financial risks and promote deleveraging efforts, a major policy easing is unlikely for some time," the official said. "That would help keep broader price pressures under control."
A neutral monetary policy environment does not support a sharp increase in inflation, analysts said.
The official was commenting after meat and vegetable prices rose in recent months, triggering concerns about the possible advent of stagflation-when an economy features high inflation and faltering growth.
Prices of food, including pork, eggs and vegetables, have risen strongly, producing inflationary pressure that could be exacerbated if the trade dispute with the United States leads to more tariffs on imports.
China's consumer price index, a main gauge of inflation, rose by 2.1 percent in July from a year earlier, beating market expectations, according to data from the National Bureau of Statistics.
Food prices, a major contributor to the index, rose 0.5 percent in July from a year earlier, after ticking up 0.3 percent in June. Nonfood prices rose 2.4 percent in July, compared with 2.2 percent growth in June.
China International Capital Corporation analysts said the index was likely to have risen 2.2 percent last month.
The NDRC official said price rises for vegetables and eggs, in which adverse weather last month was a factor, are expected to be short-lived and gradually stabilize and then fall back.
The official added that last month's African swine fever outbreak, which has been controlled, will not pose a major threat to pork prices.
As the U.S. trade war adds more uncertainties to global economic recovery, a major rally in commodity prices is unlikely in the near future, lessening inflationary pressure, the official said.
Hua Chuang Securities analyst Qu Qing wrote in a report that even if inflationary expectations rise significantly, any increase will not occur until early next year, and there is a low possibility that the central bank will raise interest rates this year.