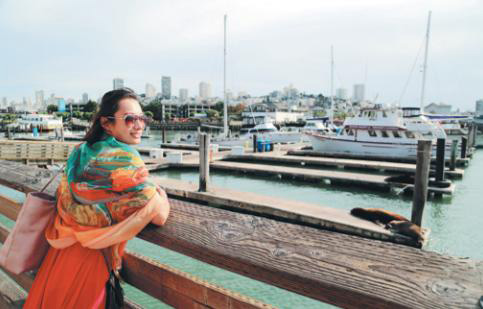 A Chinese tourist enjoys sights of Fisherman's Wharf, San Francisco, California. (Provided to China Daily)
The U.S. tourism industry may suffer due to escalating trade tensions between the United States and China, industry experts said.
They are concerned that the Donald Trump-led U.S. administration's measures like additional import tariffs on Chinese goods imposed since July may spark a chain reaction that could eventually see a sharp drop in the number of Chinese tourists visiting the U.S. during the holiday season in October.
"There will be an impact on tourism for sure. The question is, how long would that impact last? We hope it'll be temporary," said Barry Lin, deputy general manager of destination marketing services at Chinese online travel agency Tuniu Corp.
The tourism industry is watching the situation closely as the week-long National Day holiday break starting Oct 1 is drawing closer, Lin said.
"The difficult time that the two countries are passing through would probably deter travelers from joining group tours," Lin said.
The trade tensions may also affect U.S.' pursuit of growing its global travel market, Jonathan Grella, executive vice-president of the U.S. Travel Association, told Las Vegas Review Journal recently.
Increasing visits by Chinese tourists could help reverse what the U.S. perceives as imbalance in bilateral trade, bolster competitiveness and create American jobs, he said.
In July, the Chinese Consulate General in San Francisco issued a travel warning to Chinese tourists, asking them to be cautious about burglaries while visiting San Francisco, Las Vegas, Seattle and other popular tourist destinations across the U.S.. The warning came in the wake of some recent robberies.
While U.S. tourism is on tenterhooks, Turkey has seen a surge in the number of Chinese travelers, following recent weakness in local currency, the Turkish lira. The resulting favorable foreign exchange rate has stimulated Chinese tourists' enthusiasm for shopping in Turkey.
Ctrip, China's largest online travel agency, said in early August that the number of Chinese people who searched for Turkey-related information on its website soared nearly 500 percent over the previous two weeks. This summer, the number of reservations for Turkish hotel rooms by Chinese tourists surged nearly 200 percent year-on-year.
Prices of Turkish travel packages are expected to drop about 20 percent to 30 percent after the National Day Holiday break, given that the prices of flight tickets and hotels have already dropped quite a bit in recent weeks.
"Turkey offers electronic visas, and it's very fast and convenient to apply for visas. Passengers can book the trips just a week in advance. Our packages in summer have sold out quickly, and most reservations are now for the coming National Day holiday break," said Xiao Yinyuan, director of outbound travel at Ctrip.
"For our group tours, we've adjusted the schedules and added about one to two days for travelers to go shopping, as some said they would prefer to do that after the sightseeing tours," Xiao said.