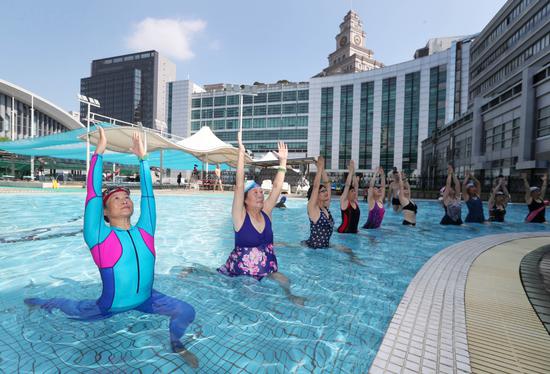 Retirees practice yoga in a swimming pool at a gym in Hangzhou, Zhejiang Province. (Photo by Lin Yunlong / For China Daily)
Tech firm's wealth management channel soon to offer target-date retirement funds
Ant Financial Services Group has invited some younger residents to address their pension options through its wealth management service, just one week after the country's target-date retirement funds received the green light from securities regulators.
The financial technology giant announced on Tuesday that the first batch of target pension funds offered by 14 asset managers will become available through Ant Fortune, Ant Financial's wealth management channel, as people look for diversified savings options beyond the unified national pension system.
"Target-date funds are specifically designed to encourage individuals to save for retirement and plan for the long term," said Zu Guoming, vice-president of Ant Financial. "We are advocating healthy investment habits and providing access to a diverse range of financial products and investor education initiatives."
The deal came as a recent poll suggested the country's younger population have set an ambitious target of 1.63 million yuan ($236,000) in savings for retirement, but seem ill-prepared to reach that goal.
Those aged 35 years and under - defined by investment fund Fidelity International and Ant Financial as the younger generation - said they would consider saving only after the age of 40 and would allocate just 20 percent of their income for retirement purposes.
But the pair calculated that translates as 60 years to hit the 1.63 million yuan target based on current interest rate levels.
"The majority of our respondents said they realize they cannot rely on their families for care in old age, but less than 3 percent acknowledged they have a good command of various retirement fund options. You definitely see a sharp contrast and a big gap here," said Li Shaojie, managing director for the Fidelity International China region.
China offers consumers three ways to save for retirement - the national pension system, voluntary occupational pensions, in the form of annuities and covering only a minority of the population, and private savings, said Fang Lianquan, a researcher at the Center for International Social Security Studies of the Chinese Academy of Social Sciences.
"Target-date retirement funds fall into this third category and are gathering pace in China," he said.
According to Fang, target pension funds usually allocate a pool of investments to varying degrees of risk based on when an investor is expected to retire and cash out, such as 2030 or 2050.
Ant Financial is banking on its 520 million users, who are adept at managing wealth via internet channels, to promote such products. The service uses consumer analytics to recommend the most suitable funds for each user, which are calculated based on previous investments made through the platform and a survey filled out during the sign-up phase, as mandated by regulators.
The minimum holding period for such funds is three to five years, as the funds target long-term investment and prioritize lower volatility, said Fang Yitian, chairman of Wanjia Asset Management Co Ltd, a fund provider on Ant's platform.
"Platforms like Ant Financial have the technological prowess to depict typical users and are becoming an effective sales channel for innovative wealth management products thanks to their unique user attraction and retention efforts," said Qu Xiangjun, a senior global managing partner at McKinsey & Co.