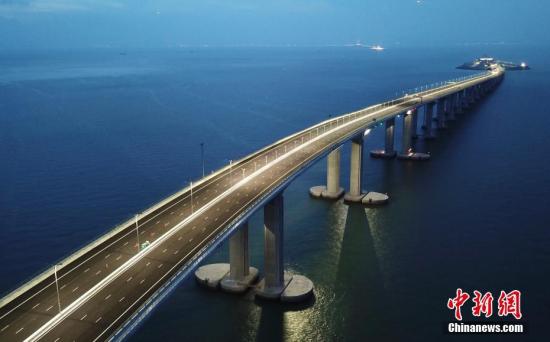 A rendering of the Hong Kong-Zhuhai-Macao Bridge. (Photo/China News Service)
Special: Belt and Road Five Years
The Greater Bay Area remains one of China's most vitally important regions.
Guangdong Province is home to China's Silicon Valley, and is a mecca of commerce and industry. Hong Kong is one of the world's top financial centers. It and Macao both attract millions of tourists every year.
But experts point out the area's greatest challenge – moving efficiently across all three territories.
From Guangzhou South Station, one of China's most modern train depots, passengers can arrive in Zhuhai in roughly an hour. From there, many continue on to Macao.
"It's a convenient ride," said He Weiran of Guangzhou, who frequently makes the trip. "It's more like a subway now than a train. It can also take more passengers, but it is still a little crowded."
"As a passenger I definitely hope the train can be even faster and more convenient," added Peng Caiping, another regular rider aboard the train.
While plans haven't been finalized for a high-speed railway to Zhuhai, there will be one that takes passengers from Guangzhou to Hong Kong in just 48 minutes this autumn. Trains from Guangzhou to Shenzhen currently take just over an hour, with many on board that route headed for Hong Kong.
For those that like to drive, the Hong Kong-Zhuhai-Macao Bridge – the world's longest cross-sea span – will open to traffic in the coming weeks.
But most agree that Guangdong Province remains the Greater Bay Area's weak link.
The vast majority of its major cities require more efficient access to Hong Kong and Macao, so as to create what they call a "one-hour life circle" throughout the Greater Bay Area.
It's something that authorities are trying to remedy.
"Construction is underway on the Shenzhen-Zhongshan Tunnel, Humen's second major bridge, and the Lianhua Mountain Bridge," said Wang Fumin with the Guangdong Transportation Department. "We're also about to start building the Shiziyang and Lingdingyang Tunnels. These will help modernize the area's transportation network."
Guangdong's 8,300-plus kilometers of existing expressways are already more than any other Chinese province. The Greater Bay Area plan is expected to call for innovative and green infrastructure projects, along with economic and trade cooperation between Guangdong, Hong Kong and Macao.
"We have built the world's most intensive road and railway networks," Wang added. "We have three of the world's ten busiest ports, five major airports, and are laying a solid foundation for future development."
The Greater Bay Area remains one of the world's fastest-growing bay areas, a trend that is expected to continue for years to come.