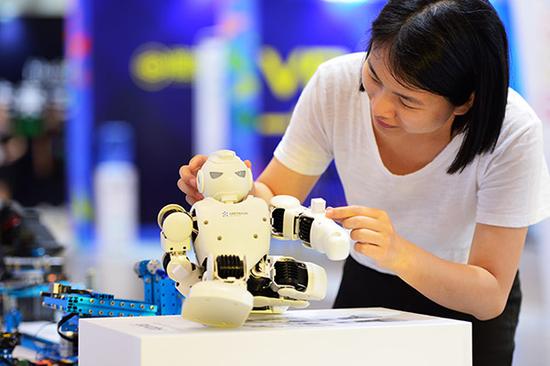 A visitor plays with a small robot at a science and cultural innovation exposition held in the China (Fujian) Pilot Free Trade Zone. (Photo/Xinhua)
New preferential policies launched in Fujian zone are helping to boost ties with Taiwan
Fujian Province in East China is fast becoming a strategic central point for the Chinese mainland's cross-Straits trade with Taiwan, as its free trade zone is launching preferential policies in response to the recent call for further opening-up from the State Council.
Measures include easing of entry policies for Taiwan products, offering financial support to Fujian-based companies headquartered in Taiwan, planning business incubators that offer infrastructure and services to startups, and facilitating cooperative projects in emerging areas such as information technology.
"Fujian's efforts to strengthen business ties are essential to both sides' economic progress and promoting cross-Straits interactions," said Zheng Xincong, vice-governor of Fujian Provincial People's Government, as it is located directly across the Taiwan Straits and about 130 kilometers at its nearest from the sea.
Approved by the State Council in 2014, the China (Fujian) Pilot Free Trade Zone now covers districts in Xiamen, Fuzhou and Pingtan, totaling 118.04 square kilometers.
The policies have proven effective. In the first quarter of this year, shipments to Taiwan from Xiamen port surged 133.02 percent to a total of 951,500 units, compared with the first quarter last year. Fruit from Taiwan landing in Xiamen counted for 80 percent of all shipments from Taiwan to the Chinese mainland.
In addition, cargo handling capacities of Xiamen International Shipping Center have been expanded to 10.38 million TEU (twenty-foot equivalent units), ranking 14th globally.
"Fujian's FTZ is playing an increasingly important role in promoting joint development," Zheng said.
"Fujian has also facilitated trade in services with Taiwan in more than 50 fields and industries, including finance," Zheng added.
The trade boom has attracted an increasing number of Taiwan investors and companies to set up branches in Fujian FTZ and other cities in the Chinese mainland.
Chen Mingzhuo, deputy general manager of Fujian-based Haixia Equity Exchange, said that 2,005 new companies with Taiwan capital were set up in Fujian FTZ last year.
"A total of 41 Taiwan-funded companies listed on Haixia Equity Exchange are offering financial support to Taiwan residents who start businesses in Fujian FTZ, in fields such as new energy, biochemicals and high-tech," Chen said.
"A total of 71 policies were recently implemented to provide Taiwan companies with a better business environment in accordance with the local government's policies," Chen added.
In addition to policies for promoting cross-Straits trade and fostering a bettering business environment for Taiwan companies, the government is also promoting a series of policies to attract talented individuals and skilled professionals to work and run businesses in Fujian.
According to Zheng, Fujian FTZ offers Taiwan residents the same benefits as mainland residents, in terms of housing, medical treatment and investment.
Moreover, fields such as architecture, tourism and education are among the most successful in attracting employees from Taiwan. Pingtan now has 31 registered architects and 139 tour guides from Taiwan.
"More Taiwan residents are considering working in Fujian," Zheng said.