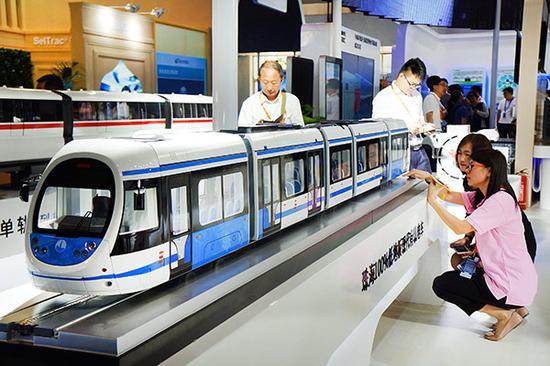 Visitors look at the latest models of urban rail trains shown at the International Urban Rail Exhibition in Beijing. (Photo/Xinhua)
Output in emerging sectors expanding rapidly as consumption patterns change
Anta Sports Products, the Chinese mainland's largest sportswear retailer by market value, last year posted record annual profit for the third consecutive year.
A large part of this came from online sales, with the company collaborating with leading e-commerce platforms such as Tmall and JD, in addition to its online flagship store.
"We have benefited greatly from the country's consumption upgrading and new sales channels," said Li Ling, Anta's vice-president.
Anta's success mirrors the transformation of China's consumption patterns.
In the first half of this year, although retail sales expanded by 9.4 percent year-on-year, slower than in the first quarter, online sales increased by more than 30 percent.
And online sales are only one of the many new growth engines buttressing the Chinese economy.
In the first half of this year, manufacturing fixed asset investment grew by 6.8 percent year-on-year, compared with 6 percent for all sectors, according to the National Bureau of Statistics. Private fixed asset investment increased by 8.4 percent in the same period, 1.2 percentage points higher than a year ago.
Output in some emerging sectors, such as high-tech and equipment manufacturing-backbones of the country's industrial development-have registered significantly faster growth than overall industrial output growth of 6.7 percent in the first six months.
"The higher growth in the high-tech and equipment manufacturing industries indicates that China's industrial structure has continually improved and the innovation capacity of industry has been enhanced," said Qin Hailin, director of the China Center for Information Industry Development's Industrial Economy Institute.
Meanwhile, the service industry has contributed to 60.5 percent of overall GDP growth, compared with 58.5 percent for the whole of last year, indicating solid progress in China's economic restructuring.
Yan Pengcheng, spokesman for the National Development and Reform Commission, said at a news conference on July 17, a day after the release of major economic data for the first half of this year, "We should note the improvement in the quality (of economic growth)."
The low unemployment rate is adding to the stability of the economy, standing at 4.8 percent in urban areas, 0.1 percentage point lower than a year ago.
Li Chang'an, a professor at the public management school of the University of International Business and Economics, said, "China's economic growth has become more efficient in creating jobs."
China has also made significant headway in supply-side structural reform, with corporate leverage and debt levels falling in the first half of this year.
A report by the ASEAN+3 Macroeconomic Research Office on July 20 said, "Domestic risks have receded due to efforts to curb financial and corporate leverage." ASEAN+3 refers to Association of Southeast Asian Nations member countries plus China, Japan and South Korea.
The report said liquidity conditions in financial markets have tightened to some extent, but the overall liquidity risk is considered to be manageable. Credit risks have increased slightly in the corporate bond market, while the nonperforming loan ratio in the banking sector remains low.
With GDP of 82.7 trillion yuan ($12.2 trillion) last year, China has become the world's second-largest economy after 40 years of expansion. It now places more emphasis on high-quality development, with more input on sustainable growth, financial stability, poverty reduction and environmental protection.
Yan said investment in ecological and environmental protection, for instance, increased by 35.4 percent year-on-year in the first half of this year.