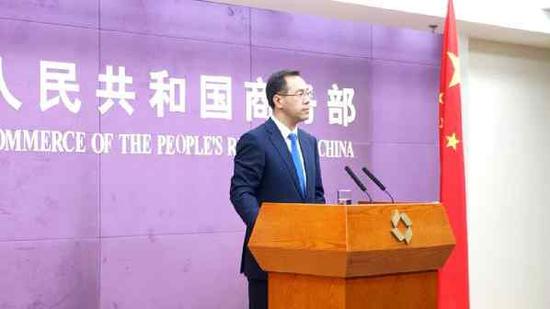 Gao Feng, spokesman of China's commerce ministry, takes questions from the media on Thursday afternoon in Beijing. (Photo/CGTN)
China's commerce ministry has responded to America's public hearing into its proposal to impose tariffs on a list of 16 billion U.S. dollars' worth of Chinese goods.
Based on statement by the U.S. Trade Representative's office, the proposed tariffs are in response to China's practices related to technology transfer, intellectual property and innovation. The U.S. has already imposed tariffs on 34 billion dollars' worth of Chinese products and the proposal would raise that to 50 billion dollars.
At Thursday's news briefing, Gao Feng, spokesman for China's commerce ministry, said Washington continues to fail to come up with positive measures to relieve the ongoing trade dispute.
Gao told the media that among the over 300 written comments published by the U.S., more than 90 percent of the participants voiced their opposition at the public hearing.
Gao Feng emphasized that since the U.S. launched the Section 301 investigation, the country has never failed to come up with measures to worsen the trade friction. He added that the U.S. side even accused China of pushing the negotiations into a stalemate. "There's no need for debate over that groundless accusation, as it's self-evident," commented the spokesman.
In response to media questions regarding the Trump Administration's Section 232 investigation into whether foreign countries are hurting U.S. national security by undercutting American car and parts manufacturers, Gao Feng said business representatives from China attended the hearing held on July 19 in Washington DC.
Gao said that out of the total 44 interest groups involved, 43 opposed the investigation, and expressed that cars and parts are typical civilian products, and it makes no sense to link them with the national security argument. The spokesman called on the U.S. to listen to the customers' voices and make the right choice. Gao added that China will firmly safeguard its legitimate rights in that regard.
The spokesman also responded at the press briefing to Donald Trump's remarks saying he's "ready to go" with tariffs on 500 billion U.S. dollars' worth of Chinese goods, or roughly the total amount of U.S. imports from China in 2017. Gao pointed out that the U.S. move serves a domestic political purpose, and it comes at the cost of undermining the interests of companies and customers on a global value chain.
Gao Feng tagged the move as both irrational and irresponsible. He said China does not want a trade war, but it does not fear one. He also stressed that China will continue to take effective measures to safeguard the interests of the nation and its people, and firmly uphold economic globalization and the multilateral trading system.