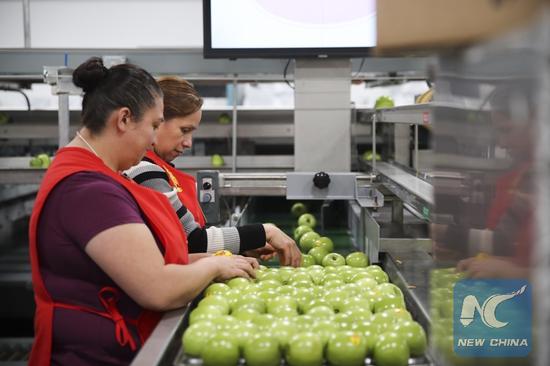 The file photo shows that workers put granny smith apples into trays on a packing line at a packing house of Auvil Fruit Company in Wenatchee, Washington State, the United States, on Nov. 3, 2017. (Xinhua/Wang Ying)
U.S. lawmakers and farmers were critical of a 12-billion-U.S.-dollar aid plan announced by the government on Tuesday, saying they "want trade, not aid."
According to the Trump administration, the proposal aims to help farmers impacted by the ongoing trade disputes between Washington and others.
The aid plan is unveiled by the U.S. Department of Agriculture (USDA), and includes both direct payment and other temporary measures for farmers. Secretary of Agriculture Sonny Perdue called it "a short-term solution" to allow the United States time to negotiate with other economies on "long-term trade deals."
Republican Senator Ben Sasse of Nebraska was apparently no fan of the plan, describing it as spending billions on "gold crutches" as the U.S.-initiated trade disputes are "cutting the legs out from under farmers."
"America's farmers don't want to be paid to lose -- they want to win by feeding the world," Sasse said. "This administration's tariffs and bailouts aren't going to make America great again, they're just going to make it 1929 again (the beginning of the Great Depression)."
"Tariffs are taxes that punish American consumers and producers," tweeted Republican Senator Rand Paul of Kentucky. "If tariffs punish farmers, the answer is not welfare for farmers -- the answer is remove the tariffs."
U.S. House Speaker Paul Ryan told reporters Tuesday that lawmakers are trying to persuade President Donald Trump out of levying tariffs on imports, saying it is "not the way to go."
"I've made it pretty clear I don't think tariffs are the right answer," the Republican leader said.
"Time and time again I've heard farmers that they want trade, not aid," Republican Senator Ron Johnson of Wisconsin said in a statement.
"Instead of throwing money at a problem we've helped create, the better option is to take action to make it easier for our farmers and manufacturers to sell their goods at fair prices to consumers around the globe," Johnson added.
For the agriculture-heavy state of Iowa, the proposed aid is viewed as only a short-term fix instead of a long-term solution. Governor of Iowa Kim Reynolds, who has repeatedly said "nobody wins in a trade war," urged continued efforts to expand and open markets.
Brian Kuehl, executive director of trade group Farmers for Free Trade, said that "farmers need contracts, not compensation, so they can create stability and plan for the future," adding that the administration's proposed action "would only be a short-term attempt at masking the long-term damage caused by tariffs."
Farmers were indifferent to government aid. Brad Kremer, a soybean farmer in Pittsville, Wisconsin, told Xinhua that most American farmers have a longer vision. "We need a strong farm bill and a strong safety net to ensure we are around in the future," Kremer said.
"We want more trade, not subsidies," said Don Lutz, a soybean farmer in Scandinavia, Wisconsin.
According to the USDA, farmers will either receive direct payments or sell their excess products to the government under the aid proposal.
The measure intends to help producers of soy, sorghum, corn, wheat, pork, dairy, fruit, rice and nuts, all products affected by tariffs imposed by other economies in response to U.S. actions. Perdue said his department put trade damage caused by retaliatory tariffs at 11 billion dollars.
Officials said they were still working to set up the programs which do not need congressional approval and are expected to be ready by early September.
Under the "America First" protectionist policies, the Trump administration has slapped high tariffs on imported steel and aluminum, as well as 25 percent tariffs on 34 billion dollars of Chinese products, escalating trade tensions with its major trading partners.