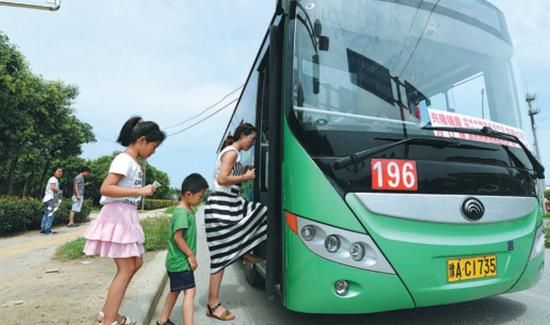 Passengers board an electric bus in Zhengzhou, capital of Henan province. (Photo by Zhang Tao/for China Daily)
The Asian Development Bank signed a deal on Monday to promote green bus transport in China through a $400 million financing package to Minsheng Financial Leasing Co Ltd.
The package is composed of a $200 million loan provided by the ADB, which represents the largest non-sovereign loan offered by the Manila-based international development finance institution to any financial institutions in the Chinese mainland to date, and a $200 million loan to be financed by commercial co-financiers.
At least a third of the loan from the ADB will be focused on China's central and western regions, including Gansu, Sichuan, Guizhou and Yunnan provinces.
The funds will be used to finance the leasing of at least 2,000 energy-efficient and new-energy buses, 500 batteries for electric buses, and 15 electric charging stations for green vehicles by 2018. The project is expected to help reduce greenhouse gas emissions by 500,000 metric tons per year, according to the ADB.
China's rapid urbanization and economic development have generated a substantial increase in the production and utilization of motor vehicles in the country, said Christine Engstrom, director of the ADB's private sector financial institutions division.
"China has become the largest producer and consumer of automobiles in the world. The extensive use of private cars in cities is causing congestion, air and noise pollution, and road accidents. In metropolitan areas, the transport sector is estimated to account for at least one-third of greenhouse gas emissions," Engstrom said.
"The Chinese government has been promoting green transport to address congestion and air pollution by encouraging a modal shift from private to public transport, as well as the large-scale deployment of green vehicles. Developing safe and affordable public transport will also directly benefit the low-income population," she added.
Wan Xiaofang, president of Minsheng Financial Leasing, said: "Green environmental projects need huge upfront investment. It often takes long to realize their return on investment, and their profit margin is low. This has put a high requirement on the comprehensive service capability a financial institution can provide.
"ADB's commercial green loan package to Minsheng Financial Leasing will not only serve as a better demonstration in the industry, but also enhance the company's capability in issuing more medium and long-term credit to the green industry."