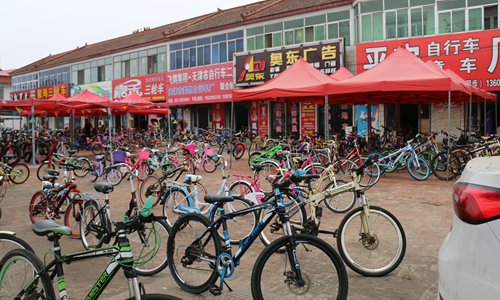 A street of Wangqingtuo lined with bicycle shops. (Photo: Zhang Dan/GT)
○ Bike sharing suppliers took huge orders in 2017, but soon went bankrupt with debts unpaid
○ Non-suppliers also face sales declines and an uncertain future as consumers switch to borrowing bikes
○ Some owners of bicycle factories in Wangqingtuo are buying the scrap bikes owned by bankrupted sharing companies at a low price, and reselling them at a higher price
Like many Chinese businessmen, Yang Qingliang worships a large statue of Guan Gong, hoping the folk god can help him improve the dismal sales from his factory showroom this summer.
Standing next to the statue are dozens of mountain bikes of the latest style and best quality, covered with dust.
"Before bike sharing, the annual sales volume of my brand used to be 150,000 bikes, but now it's only 80,000 to 90,000," he said.
Yang is one of the 300 bicycle plant managers in Tianjin's western suburb Wangqingtuo, known as "the kingdom of bicycle manufacturing" for northern China. A Global Times reporter went to the town a year ago, witnessing how bike sharing has brought opportunities for some traditional bicycle manufacturers there.
According to China's Ministry of Industry and Information Technology, the total annual bike output was 53.03 million in 2016, while the number rose to 58.99 million in 2017, thanks to the prosperous sharing boom.
However, with the rise and fall of bike sharing firms, the manufacturing industry across the country is also suffering from dramatic damage. For example, in Wangqingtuo, around 200 bike plants have closed down over the past year, Yang said.
A bicycle town
Yang came to Wangqingtuo in 2008. He has worked in the bike industry for over 20 years, and is the owner of Tianjin GIEYDA Bicycle Company.
For decades, the industry has been the town's pillar. "From spare parts and accessory production to bike assembly, Wangqingtuo's economy relies on the bicycle," he said.
Local manufacturers agreed that almost every household's livelihood depends on a bicycle-related business.
According to Tianjin Daily, the production value of bicycle and bicycle-related industry reached 3.92 billion yuan ($586 million) in 2015, accounting for over 70 percent of the total production value of the town. Producing 13 million bikes in the same year, the town contributed over 10 percent of China's annual bike output.
Yang said 2000 to 2008 was the golden era of the bicycle industry in Wangqingtuo. When more and more Chinese were able to afford cars, bicycles gradually lost their predominance as transportation, "but the industry still survived," he said.
Suddenly, the bike sharing industry brought hope to some traditional bike manufacturers in 2015. A great number of orders came from bike sharing start-ups to plants across the country.
Sun Hao, CEO of Tianjin Fuji-ta Bicycle Manufacturer Co, Ltd, told Southern Weekly that the number of orders rose suddenly and sharply from bike sharing firms. However, while they were fulfilling the orders, they were losing their traditional bicycle customers.
Sun's company in 2017 produced 5 million bright yellow bikes for Ofo, one of the largest sharing bike firms in China.
Yang agreed bike sharing made a significant impact on their industry. Although bike sharing has developed for only two years, the number of bikes produced for start-ups was comparable to the production of the whole industry over three to five years, he told the Global Times.