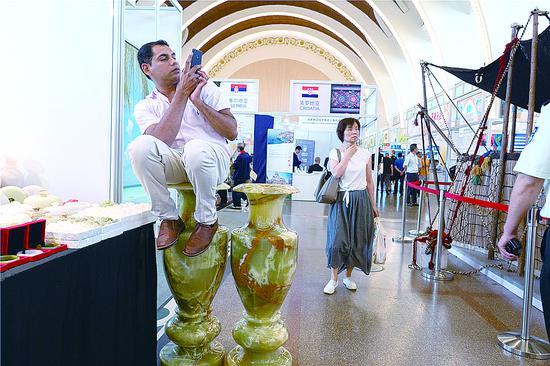 This year's Belt and Road Brand Expo presents national specialties and folk culture products from around the world. Gao Erqiang / China Daily
Exquisite products such as chalcedony from Madagascar, ebony carvings from Ghana and brands used by British royal families were featured at the recently concluded Belt and Road Brand Expo in Shanghai.
A platform for companies to explore China and the global market, the expo was held in Shanghai from June 29 to July 1.
Co-organized by the Shanghai branch of the China Council for the Promotion of International Trade and the Chamber of International Commerce Shanghai, the event attracted more than 200 companies.
This year's event occupied an area of 15,000 square meters at the Shanghai Exhibition Center, and presented national specialties and folk culture products from 43 countries and the regions of Hong Kong and Taiwan.
The products and services featured at the exhibition included food and beverage, lifestyle, tourism and culture, sport and health, as well as investment and trade.
"We hope to export more products to the Chinese market, and also hope to have a closer relationship with China not only in trade but also in tourism and other sectors," said Ulugbekov Azizbek, consul of the Consulate General of the Republic of Uzbekistan in Shanghai.
Lin Hui, a Chinese representative for a French wine brand, said that the expo is a good platform that allows participants to enter the Chinese market.
"I want my compatriots to have the chance to taste the delicious, safe and cost-effective wine through the platform. Chinese people now have a higher acceptance of foreign products than before," he said.
The expo also featured cultural performances including traditional song and dance, and instrumental performances from Sri Lanka, Indonesia and Serbia.
In addition, about 20 promotional roadshows and more than 130 trade interactions among exhibitors took place during the event, including crystal appreciation, food and wine tasting, and hand painting activities.
Ren Xiangyu, 18, said she visited the expo after reading an article on WeChat.
"I love these featured products from different countries and want them all, but some of them are not cheap," said Ren.
Shao Qiufang, 60, attended the event with her friends and bought Brazilian beef jerky and fruit jams from Bulgaria for about 300 yuan ($45). She said that people of her age were focusing on food and other daily products while younger people were more attracted by fashion products and handicrafts.