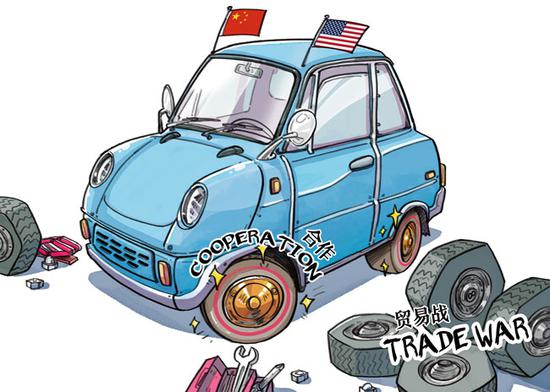 (Photo by Cai Meng/ For China Daily)
China will "fight back firmly" if the United States publishes an additional list of tariffs on Chinese goods, China's Ministry of Commerce said on Tuesday morning.
The U.S. government's latest threat to impose a 10 percent tariff on $200 billion worth of Chinese goods after it announced its decision to impose 25 percent tariff on $50 billion worth of imports from China on June 15 is extreme pressure and blackmailing, the Ministry of Commerce said.
The ministry added the move deviates from the consensus reached by the two sides and disappoints the international community.
If the U.S. side gets so irrational as to publish an additional list of tariffs on Chinese goods, China will have to fight back firmly with comprehensive "qualitative" and "quantitative" measures, it said.
The U.S. has launched a trade war which violates the law of the market, does not conform to the current world trend of development, hurts the interests of the people and enterprises of the two countries and harms the interests of the people of the world, the ministry spokesman added.
China's response is to safeguard the interests of the country and the people, as well as safeguard and defend the free trade system and the common interests of humankind. No matter how the external environment changes, China will insist on people-centered approach, firmly push forward the reform and opening-up and the development of the high quality of the economy, and accelerate the construction of the modern economic system in accordance with the established rhythm.