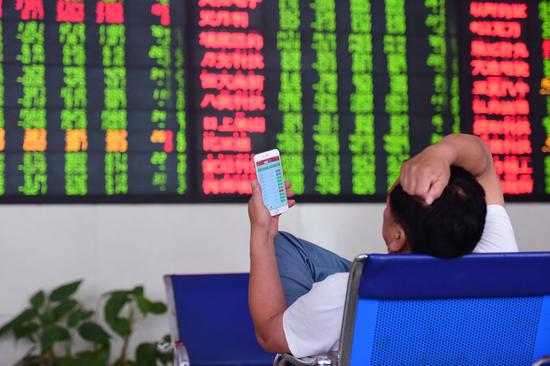 An investor checks stock prices at a brokerage in Fuyang, Anhui province. (Photo by Lu Qijian/For China Daily)
Experts expect fundamentals to be key for market performance in the long run
China's A-share market will be negatively influenced in the short term by the trade war initiated by the United States, but economic fundamentals will determine its performance in the medium and long term, according to experts.
Hong Hao, chief strategist at BOCOM International Holdings Co, said it was beyond the market's expectation that United States President Donald Trump decided to impose new tariffs on selected Chinese products and restrict imports.
"The performance of the Chinese A-share market on Tuesday and in the short term will be negatively influenced by the White House's tariff decision, as well as by other factors such as liquidity concerns caused by unicorn companies," Hong said.
The U.S. on Friday announced additional tariffs of 25 percent on Chinese imports worth approximately $50 billion, including products from the aerospace, robotics, machinery, new materials and automobile sectors. To ensure its rights, China on Saturday announced it will implement additional 25 percent tariffs on 659 goods worth $50 billion from the U.S..
Hong said the U.S.-initiated trade war is mostly a political consideration, which will harm the capital markets of both the U.S. and China in the short term.
"Investors could purchase defensive stocks such as pharmaceuticals and consumer companies to mitigate the risks. But in the medium and long term, economic fundamentals will be the crucial factors determining the development of the domestic capital market," Hong said.
Hu Yifan, chief China economist at UBS Wealth Management, said the impact of the U.S. tariffs on the stock market would be the devaluation of listed firms.
"The valuations of listed exporting enterprises on the A-share market will be influenced first, and then the banks and companies in other sectors," said Hu, adding that the situation will be similar in the U.S..
Hu said, to manage downward risks in stock markets, investors could purchase put options. A put option gives the holder the right, but not the obligation, to sell an asset at a specified price.
Tang Yao, economics professor at Peking University, said Chinese stock markets will bear pressure in the short term, as the U.S. raised interest rates and imposed tariffs. But, he said, its long-term performance will be closely related to the nation's economic growth.
China's industrial output grew 6.8 percent year-on-year in May, 0.3 percentage points higher than the same period last year, according to data the National Bureau of Statistics released last Thursday.
The People's Bank of China said on Monday that China's economy has great potential and strong economic resilience.
The PBOC said it will maintain a prudent and neutral monetary policy, effectively deal with external challenges and stabilize market expectations to safeguard the steady operation of the financial markets, accelerate the further opening-up of the nation's financial industry, and promote healthy economic and financial development.