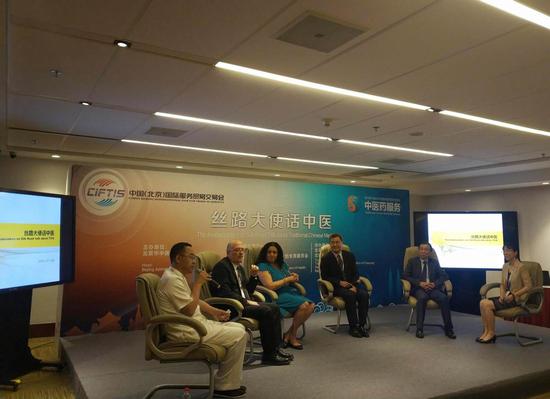 Tania Romualdo (third from left), ambassador of Cabo Verde to China, attends a panel discussion on TCM in Beijing on May 30, 2018. (Photo by Song Jingli/chinadaily.com.cn)
Bellova, who still runs a clinic in Slovakia, said many patients are very interested in the effects of TCM as some western medicine doctors have already included TCM therapeutical ways including acupuncture, moxibustion and cupping in their practice. She added that the Slovakian medical authorities come to Tianjin University for exchange programs every year.
Beijing University of Chinese Medicine's Ma said that it's a trend now to train western medicine practitioners on TCM as this will overcome the problem of legality in TCM treatment and will also makes TCM a little easier to understand.
"Whether it is western medicine or Chinese medicine, the medicine is for the human body, the structure of which is the same worldwide. The TCM service originating in China should be enjoyed by people all over the world," Ma added.
Bellova said she was very curious at how western physiology and eastern physiology would work together when she first learned the eastern physiology.
"I think now we should look at having a deeper, clearer understanding about what traditional Chinese medicine really is because in Cabo Verde, my country, we are very interested in having Chinese traditional medicine in our country for the benefits of our people," said TaniaRomualdo, ambassador of Cabo Verde to China, Cabo Verde is an island country which spans an archipelago of 10 volcanic islands in the central Atlantic Ocean.
According to Ma, the core of TCM is harmony, moderation and balance. Harmony between the human body, nature and the society is valued under TCM theories. Moderation refers to a way in coping with things and doing things in a middle way and this is considered beneficial for one's health while balance means health in TCM as all TCM methods aim to restore the balance in a patient's body to make it more healthy.