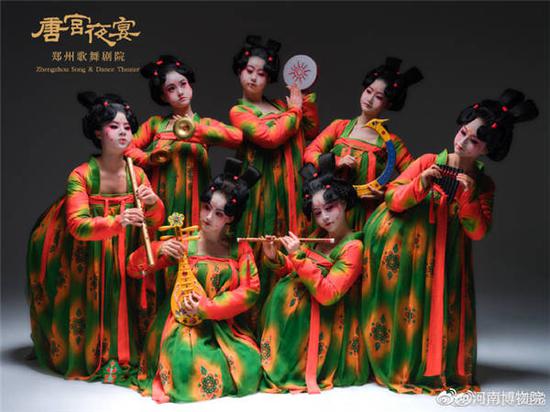 A poster of the dance show Night Banquet in Tang Dynasty Palace (Photo/Official Weibo account of Henan Museum)
A dance show which recreates Tang Dynasty (618-907) scene has gone viral online, winning much acclaim from netizens.
Titled Tang Gong Ye Yan (Night Banquet in Tang Dynasty Palace), the show presents the process from making preparations to performing by a group of female musicians at a banquet in Tang Dynasty. It breaks the stereotype of lyric atmosphere of Chinese classic dance and offers an amusing and real-life sense.
Fourteen dancers wearing jumpsuits filled with sponge and with special cotton in their mouths recreate the plump figures of Tang Dynasty females. Besides, crescent-shaped makeup and costumes resembling Tang tri-colored pottery make audiences feel like travelling to the Tang Dynasty 1,300 years ago.
Modern digital technology such as 3D and AR are used to produce a combination of virtual scene with real stage, along with nifty dance moves of actresses and demonstration of national treasures, have all made the show impressive .
The show presents several precious treasures of Henan province through its performance, such as Fu Hao Xiao Zun (Bronze wine vessel in the shape of owl), Lian He Fang Hu (Rectangular wine vessel with lotus and crane), the Jiahu Bone Flutes as well as paintings of Ladies with Head-pinned Flowers.
The program is considered a highlight of the 2021 Spring Festival gala of Henan Satellite Television, whose gala was widely praised by audiences this year.
According to Wenhui Bao newspaper, the video showing the dance has been watched 48.62 million times on Sina Weibo, and the view counts of related topics has surpassed 200 million on Douyin, a short-video platform in China, by Feb. 19.
Netizen nicknamed "yunpiaoliang vivian" said, "The show is so amazing! This is how traditional culture should be presented. I give my thumbs-up!"
A netizen nicknamed "zishilx" said, "I like their costumes and the background. The court ladies are so lovely, while when at the banquet, the music changes, and they display majestic manners."
Netizen "wanshuzhiwang" said the excellent Chinese culture is well revived in this way.
The dance show, choreographed by Chen Lin from Zhengzhou Song and Dance Theater, is adapted from an entry in the 12th Chinese Dance Lotus Award in 2020 by the theater, with minor changes made to adapt to TV presentation.
Luoyang city in Henan province was once a capital of the Tang Dynasty, and it is said that the show was inspired by a group of Tang Dynasty pottery figurines displayed in the Henan Museum, which is from the reign of Emperor Kaihuang of the Sui Dynasty (581-618AD), and unearthed from a tomb in Anyang city.
According to Henan-based news website dahe.cn, a special program was designed by Henan TV for its upcoming Lantern Festival gala, which would bring 14 actresses of the "Night Banquet in Tang Dynasty Palace" from virtual stage to the pottery figurines in Henan Museum to produce a brand-new show.