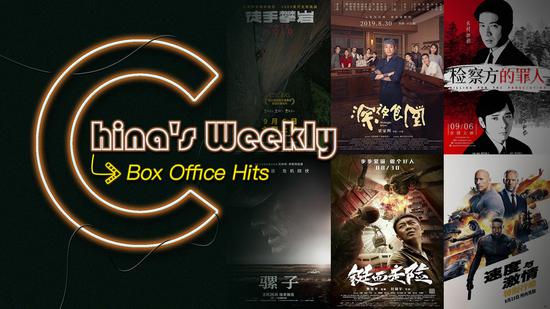 Cover image designer: Gao Hongmei
"Ne Zha" surpassed sci-fi film "The Wandering Earth" as it rose to the second place at the Chinese box office and accumulated a total over 4.6 billion yuan (about 640 million U.S. dollars) at the end of August according to Maoyan, China's biggest movie-ticketing platform.
Hollywood blockbuster "Fast & Furious Presents: Hobbs & Shaw," still tops the box office. New movies "Vortex" and the much-discussed "Midnight Diner" are both continuing to climb at the box office, but the overall audience reaction to both have been poor.
Adapted from the Japanese manga by Yaro Abe, a three-season Japanese television drama "Midnight Diner" was very well received worldwide. As the title suggests, the drama revolves around customers who come to eat at this particular restaurant late at night. The customers talk about their lives and the chef will cook for them, and offer them help and advice.
In 2017, the show was adapted by Chinese director Hu Hanqing into a TV series of the same name, but audiences were not impressed and gave it only 2.8 out of 10, one of the lowest scores on Douban, a Chinese film rating website.
This fiasco put a lot of pressure on Tony Leung Ka-fai's film under pressure even before its release, partially explaining why his directorial debut was left on the shelf for two years before finally coming out at the end of the summer vacation this year.
It made 29 million yuan (4.05 million U.S. dollars) on its first weekend.
Full of cameos, lacking content
The film has an extremely strong cast, ranging from veteran actors to young stars. They include Eddie Peng Yuyan, Jiang Wenli, Yang Youning, Liu Tao, Wei Chen and Deng Chao, each as the customer in the eponymous diner.
However, this large cast hasn't swayed audiences. After four days of release, it has 5.3 out of 10 on Douban. Here are two netizens' comments on Douban: "Why do they serve Shanghai food in a diner that is decorated in Japanese style?" "The concept itself is not suitable for a remake. After all, this type of late-night diner is a Japanese custom,".
However, some audiences also expressed their approval of the film: "Each story has a feeling of healing. It went above my expectations," said a fan who gave the film 8 out of 10 on the website.
"Vortex" continues low-level crime movie trend
"Vortex" tells the story of a garage owner involved in a child abduction case. It has a tepid 6.3 out of 10 so far on Douban.
A lot like "The Big Shot" which hit Chinese cinemas earlier this year, "Vortex" shows the desperation of life in society's lower classes.
The film has so far made over 34 million yuan (4.74 U.S. dollars), according to Maoyan data.