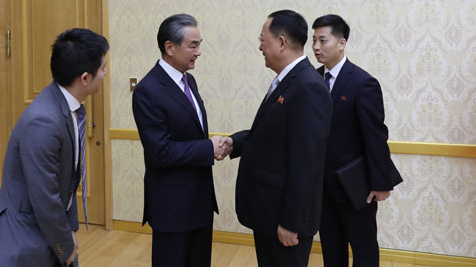 Chinese State Councilor and Foreign Minister Wang Yi (L) shakes hands with DPRK's Foreign Minister Ri Yong Ho (R) in Pyongyang, DPRK, September 2, 2019. /Photo via Chinese Foreign Ministry
The Democratic People's Republic of Korea (DPRK) on Monday said its country fully supports all measures taken by the Communist Party of China and the Chinese government to invariably maintain the "One Country, Two Systems" principle and defend its territorial integrity.
DPRK's Foreign Minister Ri Yong Ho made his remarks when meeting with the visiting Chinese State Councilor and Foreign Minister Wang Yi.
The Chinese foreign minister briefed China's view, position and countermeasures on the latest development of the Hong Kong situation.
Ri for his part, reiterated that "The affairs of Hong Kong are the internal affairs of China and external forces should not interfere in Hong Kong affairs."
Noting that Chinese President Xi Jinping's visit to the DPRK greatly enhanced traditional friendship and strategic mutual trust between the two countries, Wang hoped the two sides can effectively turn the will of the top leaders of the two parties and countries into mutual action.
The bilateral relation has been upgraded to a new historical stage, the Chinese foreign minister said, added maintaining, consolidating and developing China-DPRK friendly and cooperative relations is the unswerving policy of the Chinese government.
Wang stressed that 70 years after the establishment of diplomatic relations between China and the DPRK, the two countries have always been standing together regardless of international situation.
He believed with the joint efforts of both sides, China-DPRK relations at a new starting point will show more vigorous vitality and usher in a better future.
The DPRK foreign minister recalled two top leaders' five meetings within the past year and said they have jointly unfolded a new era of DPRK-China relations.
Noting that Wang's visit is an important part of the celebration of the 70th anniversary of the establishment of diplomatic relations between the two countries, Ri added Wang's visit also reflected the great importance China attaches to the implementation of the two leaders' consensus and the promotion of the development of bilateral ties.
Unswervingly promoting DPRK-China friendship and cooperation is the unchanged position of the DPRK party and the country, he added.
Ri also congratulated the 70th anniversary of the founding of the People's Republic of China and sincerely wished the Chinese people to make great achievements in the new era to realize the great rejuvenation of the Chinese nation.
The two sides exchanged in-depth views on the situation on the Korean Peninsula, exchanged the latest information, and agreed to continue to maintain close communication on peninsula issues and make greater contributions to maintaining regional peace and stability.