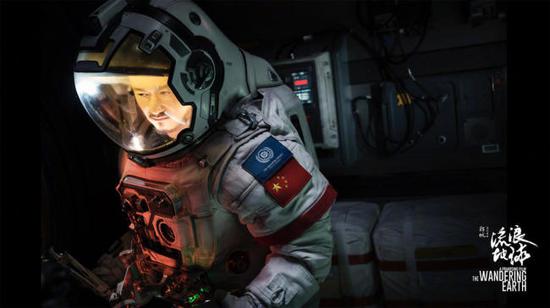 Screen grab of Wu Jing in "The Wandering Earth." (Movie poster)
Netflix has bought "The Wandering Earth," the Chinese sci-fi hit that smashed the Spring Festival box office domestically and pocketed 4.11 billion yuan (about 611 million U.S. dollars) so far.
The specific date of release is yet to be announced.
The movie, starring Qu Chuxiao and Zhao Jinmai, created a buzz in China and further afield despite featuring relatively fresh names, save the special appearance from veteran actor Wu Jing and a supporting role by Ng Man-tat.
Director Frant Gwo is also an up-and-coming talent having directed three films before this one.
The film ranked 4th on the list of top grossing movies upon its release but has since climbed to the top, surpassing other domestic and foreign titles.
It won over the audience with its intricate visuals and neat special effects, with many hailing it as the prelude of a new era for Chinese sci-fi movies.
"Netflix is committed to providing entertainment lovers with access to a wide variety of global content," said Manager of Content Acquisition at Netflix Jerry Zhang in a statement.
"With its high-quality production and story-telling, we believe that The Wandering Earth will be loved by Sci-Fi fans around the world."
In the same statement, director Gwo said, "Audiences from over 190 countries will soon meet The Wandering Earth on Netflix. I am glad that our movie can reach to people from different parts of the world."
The director noted that the film was created for Chinese audiences across the world, and the crew was happy it has gained positive feedback from them.
He said he was surprised that the movie resonated outside the Chinese mainland.
"Netflix will translate it into 28 languages, enabling more viewers to enjoy it regardless of geographical and linguistic differences. I hope they will like it," the director added.
Netflix is an OTT streaming service that started in the United States before migrating to other markets about a decade ago.
From North America it expanded to South America in the early 2010s, and as of 2012, it reached Europe, starting from countries like the UK and Denmark.
Since 2014, the network became gradually available in Asia-Pacific countries, such as India, Australia, New Zealand, and Japan. Efforts to launch in China are currently underway.