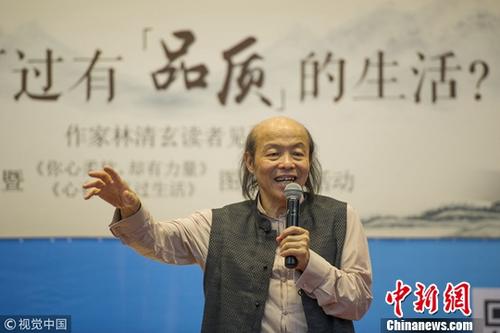 File photo of Taiwan-born writer Lin Ching-hsuan. (Photo/VCG)
Lin Qingxuan, a Taiwan-born writer gaining popularity across the Straits, died at the age of 65, according to Taiwan media.
Born in 1953, Lin Qingxuan was a famous writer, essayist, poet and scholar who was honored with numerous prizes.
He also used pen names like Qin Qing, Lin Li and Lin Da-bei in his writing career.
Raised in Kaohsiung city, Taiwan, he graduated from Shin Hsin University. While in college, he published his first book Lian Hua Kai Luo in 1973. After that he began working as a journalist for several years before devoting himself to writing essays.
He wrote more than one hundred articles, including Bodhi Series, Wen Yi Hu Yue Guang Xia Jiu and Leng Yue Zhong Di.
Prose like Running with Time, Cha Taka's Du Juan, and Tao Hua Xin Mu became part of primary school textbooks.
On Jan 22, Lin made a final post on Sina Weibo, China's answer to Twitter. "I think the death of the sparrow gives me some inspiration," he said. "Although we live in a world with dust and restrictions, we should never loses the interntion and ability to fly."
He was one of the most prolific writers in Taiwan and was hailed one of the "eight major writers of contemporary prose."