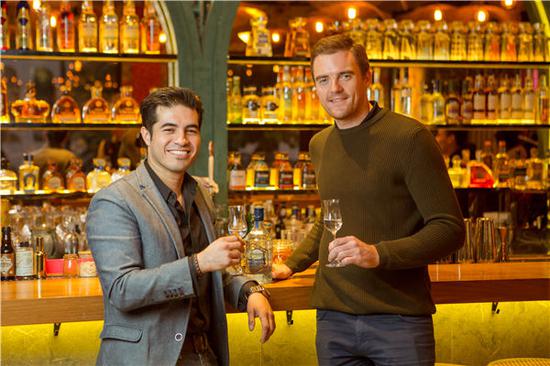 Bar manager Rodrigo Lizardi (left) and co-owner David Connolly aim to bring Mexico's tequila culture to Beijing. (Photo provided to China Daily)
An ounce of tequila, a dash of triple sec and the juice of half a lime or lemon-that is the first known margarita recipe, which was published in the December 1953 issue of Esquire.
The margarita is a drink that became popular during prohibition in the United States in the 1920s and 1930s as people drifted over the border to Mexico for alcohol.
Now, Mexican bartender Rodrigo Lizardi is bringing his version of the margarita to the newly opened El Barrio, a new destination for Mexican cuisine in Beijing.
The drink menu also features a frozen batida, coqueta and michelada.
"People used to think one shot of tequila can get you drunk, but that's with low-quality stuff," says Lizardi, who aims to showcase the variety of tequila and Mexican drinking culture in China.
All of El Barrio's tequilas are made from blue agave. It is said to be the only restaurant in China now certified by the Consejo Regulator del Tequila (Tequila Regulatory Council).
Like any international city, Beijing is home to restaurants serving food from all over the world. A variety of different cuisines have gained popularity with local consumers, but none more so than Mexican cuisine.
Tacos, nachos and margaritas are a routine part of Beijingers' diets and Mexican restaurants are noted for their party-like atmosphere.
But David Connolly, co-owner of El Barrio, says: "The type of Mexican food that you can find in Beijing is not diverse, so there is still a lot you can explore with Mexican food and alcohol."
El Barrio means "neighborhood" in Spanish and it was chosen as the restaurant's name as Connolly wants El Barrio to be a place where the community comes together to enjoy Mexican cuisine.