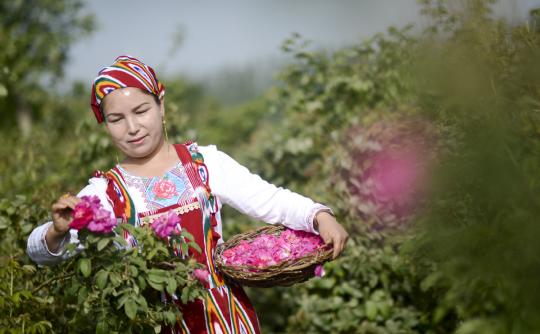 A worker picks roses in a rose deep-processing field in Hotan, Northwest China's Xinjiang Uygur autonomous region, June 6, 2018. (Photo/Xinhua)
A white paper released Thursday by the State Council Information Office said Xinjiang ethnic cultures are part of the Chinese culture.
Since ancient times, Xinjiang has been home to various ethnic groups, where different ethnic cultures coexist, said the white paper, titled "Cultural Protection and Development in Xinjiang."
Through many years of communication and integration, these cultures thrive in the fertile soil of China's civilization and are part of the Chinese culture, it added.
Historically, Xinjiang was the gateway and medium through which the Chinese civilization opened to the West, the white paper noted, adding that the Silk Road opened a new chapter in cultural exchanges and integration between East and West.
The Chinese culture is a bond that unites various ethnic groups, while in the course of daily life and work, the communication between and integration of different ethnic cultures has helped to form and develop the Chinese culture, it added.
The ethnic groups of Xinjiang live together, study together, work together, and share happiness, it said.