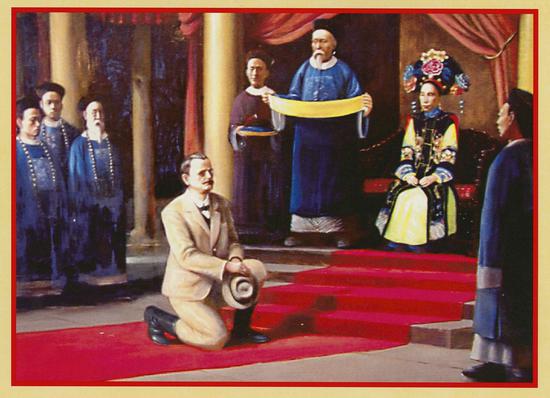 A collection of imperial ceramics and works of art gathered by two high-ranking German officials who lived and worked in Tianjin during the latter part of the 19th century is being auctioned at Sotheby's Important Chinese Art sale in London.
Gustav Detring and his son-in-law Constantin von Hanneken built up the collection during the final years of the Qing Dynasty (1644-1911). While collecting Chinese art appears to have been a hobby for both men, some pieces in the collection were likely gifted to them by the Qing court.
Detring made Tianjin his home after moving to China in 1865. He became a customs commissioner in Tianjin, and, just six years later, was appointed to serve as a private and trusted advisor to Viceroy Li Hongzhang, a Chinese politician, general, and diplomat. Detring had senior positions in the Qing bureaucracy, including a post in the Zongli Yamen (foreign ministry).
He became one of the highest-ranked Westerners in the Qing Dynasty after he was conferred as "Rank One" by the Empress Dowager Cixi.
His notable achievements in China include negotiating a series of treaties and trade agreements on behalf of the Chinese government. He was also relied upon to deal with German arms manufacturers in hiring military experts. He died in 1913.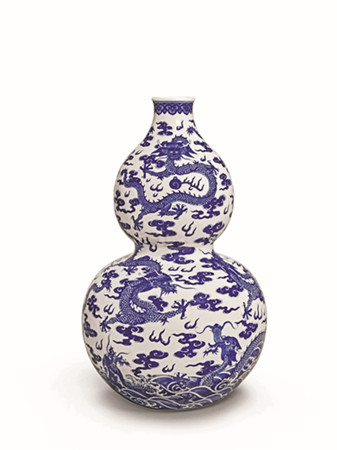 An extremely rare blue and white double-gourd dragon vase of Jiaqing period. (Photo provided to China Daily)
Constantin von Hanneken was initially hired as one of Detring's military advisers and moved to China in 1879. He quickly established himself as a close friend and adviser of Li Hongzhang.
Von Hanneken was put in charge of reorganizing and modernizing the Chinese army in designing and building several naval forts, with the most significant being Port Arthur in Dalian, Liaoning province.
He rose to the rank of Chinese general and married Detring's eldest daughter, Elsa, in 1895. He died in 1925.
Among the items going under the hammer in the collection is an extremely rare blue and white double-gourd dragon vase with the Jiaqing seal mark and period (1796-1820), which is expected to fetch 300,000 pounds ($391,000).
A rare white glaze vase from the Qianlong period (1736-95) is on sale for an estimated 400,000 pounds.
Cherrei Tian, deputy director at Sotheby's Chinese department, said: "You have to be quite brave to leave it completely white, it means your eyes don't get distracted and your focus is entirely on the shape and the form, so the portion has to be absolutely perfect and it is in perfect condition."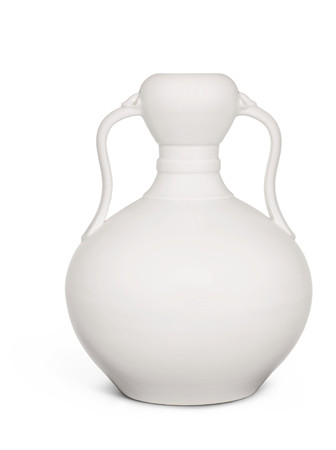 A rare white-glazed double-gourd vase of Qianlong period. (Photo provided to China Daily)
Separately, the auction's highlight lot is a Qianlong-era monumental Hotan green jade washer that is said to be among the most impressive jade vessels remaining in a private collection. The piece is thought to be the largest jade basin recorded. It has been estimated to sell for between 600,000 and 800,000 pounds.
Henry Howard-Sneyd, Sotheby's chairman of Asian art, Europe and Americas, said: "This extraordinary washer has been in the same English collection since the 19th century, it has been published in one of the most famous books on jade, and it has been shown in the great exhibition at the Royal Academy in London in the 1930s, so it has a history, but since 1936 it has not been seen in public so it's a discovery as well."
The Important Chinese Art sale at Sotheby's London takes place on Wednesday.