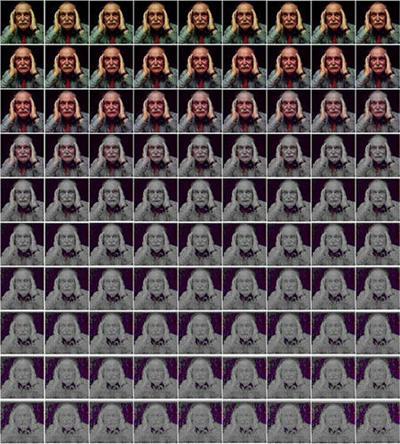 An example of old-looking memes. People use methods including screenshots and image compression to make memes appear old. (Photo provided to China Daily)
"Collect gold in the troubled times; collect antiques in the flourishing age."
This old Chinese saying has been disseminated through society as a weather vane for good investment for generations.
When people struggled for basic staples such as food and clothing, wealthy landowners started to collect gold as a kind of financial guarantee that's relatively stable around the world.
As time went on, and amid rising prices for the precious metal, people's passion toward gold gradually cooled. Instead, they turned to the antique market, which has attracted large flows of capital for a number of reasons, such as rising incomes, the development of people's spiritual pursuits, a growing sense of aesthetic and cultural tastes and the consciousness of protecting non-renewable or scarce resources.
But how about young people? They don't have much money to spare, so what do they collect nowadays?
Well, with the growth of internet and social media culture, the younger generation has cast their eyes on collecting digital memorabilia.
The collecting of emojis, GIFs and memes has become more and more popular among many youngsters-the older, the better.
Bright, colorful high-definition ones are not popular among the major collectors. No, they want digital "antiques", older images from the early days of meme culture. The more rudimentary and blurry the memes, the better.
One user on Stage1st, a posting bar for Animation, Comic, Game and Novel themes-or ACGN-defines the pixelation and the faded color of these memes as a "digital patina". It is now a widely accepted term among like-minded collectors, including one who posted that the definition sounds very "cyberpunk".
According to a report from Gamersky, an online platform for people to share information about games, films, television shows and animation, the digital patina of the memes comes from the compression during propagation. Different platforms employ different levels of compression, gradually reducing the image quality the more it is shared. For instance, local social media outlet, QQ, compresses images during both the uploading and downloading process, while message board, Baidu Tieba, gradually turns the images green.
Ding Xinyi, 21, from Shanghai, has become an "antique" meme collector in the last year. Her collection occupies 80 percent of her meme library.
"The more fuzzy the pixel is, the better the memes are," Ding says. "People who use high-definition memes must be newcomers to meme collection."
She frequently searches for antique memes with the phrase "highly blurred memes" on Sina Weibo, the Chinese equivalent of Twitter.
"We can always create new memes with Photoshop, but that somehow feels empty. I prefer the old, blurred ones with the sense of history," says Ding.
Chen Mei, 25, from Jiangsu province, trawls Taobao, an online shopping site, for antique memes.
She explains that the selling price of memes is really cheap, less than 4 yuan ($0.6) for over 500 images, or around 9 yuan for 4 gigabytes of memes.
Chen notes, however, that nobody sells antique memes separately.
They come mixed with new, high-definition ones-the ones that she finds valuable may only make up around 15 percent of the whole batch and Chen has to sort through the whole lot, one by one, to find them.
"It's like opening a pack of cards and playing the game Duel Monsters or Hearth Stone: Heroes of Warcraft-we never know whether there will be a rare meme in these gigabyte-sized packages," Chen says.
Just like navigating a traditional antique market, which requires a certain level of specialized knowledge to avoid being scammed by fake objects, there are also artificially "aged" memes that are designed to fool the uninitiated.
Electronic fading has gradually begun to rise in recent years and there are online tutorials available that instruct viewers how to create the sought-after "digital patina". People use Photoshop, screenshots, image compression techniques and other methods to make a newly-minted meme appear old or "antique".
Zhang Jiaqi, 21, currently studying in Tokyo, adds this aged charm to new memes in the most basic way-simply by taking repetitive screenshots of them to reduce the integrity of their resolution.
Zhang claims: "The image quality of the memes gets worse and worse the more they are shared and passed around online, but it reflects how popular the memes are."
Ding doesn't care if the digital patina of memes is naturally developed or purposefully manipulated by collectors like Zhang. She thinks there should not be a boundary to define whether the memes are real or fake.
On the other hand, Chen proposes an easy way to recognize the best antique memes. She considers the emergence and overlap of multiple watermarks on memes as the most solid evidence-a recorded history of the memes' recurring appearance on websites and micro blogs.
"The watermarks are just like medals endowed by critics, and they identify memes that are the best of the best," claims Chen.
"The digital patina proves the development of cyberculture, and to us young people, the antique memes are a very interesting kind of heirloom."