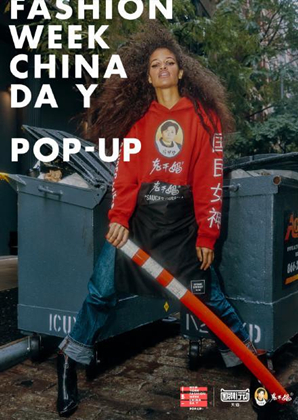 In the poster of the pop-up event hosted by Tmall, a model is wearing the hoodie plastered with portraits of Tao Huabi. /Photo via Tmall's website.
The 71-year-old founder of a Chinese chili sauce company has made it big. Portraits of her face have been plastered on hoodies selling for 120 US dollars at the Opening Ceremony store in New York City.
So how did a chili sauce founder find herself at New York Fashion Week?
Tao Huabi, a Chinese entrepreneur best known for the Lao Gan Ma chili sauce, has become synonymous with the brand itself. Her face, which is displayed on every bottle of Lao Gan Ma chili sauce has also taken off as a meme in China.
According to a 2017 Forbes estimate, Tao is worth more than 6.8 billion yuan (around one billion US dollars). Founded in 1997, the Lao Gan Ma Foodstuff company generated 3.72 billion yuan (around 544 million US dollars) in revenue in 2016, helping lift the economy in Guizhou Province, one of the poorest provinces in southwest China, according to Xinhua news agency.
Beloved not only by Chinese locals, but also by non-Chinese consumers, the sauce once was sold on the luxury goods website Gilt for six US dollars a bottle in 2012, roughly eight times the price in China at that time.
There's also a fan group on Facebook with over 1,700 members. Most discussion is about how they consume the sauce everyday.
"A member of the @fastFT team is currently sitting at their desk eating Lao Gan Ma chili oil with a spoon. Should I call the authorities?" an editor at the Financial Times once said on Twitter.
On April 6, Thai Princess Macha Chakri Sirindhorn, also a chili lover, visited the Lao Gan Ma Foodstuff company during her seven-day trip to China.
At this season's New York Fashion Week, Tao's chili sauce was invited to be featured as a Chinese icon by Alibaba. Representing iconic Chinese brands, Yunnan Baiyao, as well as mineral water company, Kang Shi Fu, were also invited.
The pop-up event is a strategy from Tmall, the Alibaba Group-owned e-commerce platform, to help Chinese designers gain popularity in the US. As the part of the company's efforts to cultivate fashion talent and introduce creative culture in China, the Chinese online shopping giant kicked off the Spring/Summer 2019 New York Fashion Week by creating a "Tmall China Day" event.