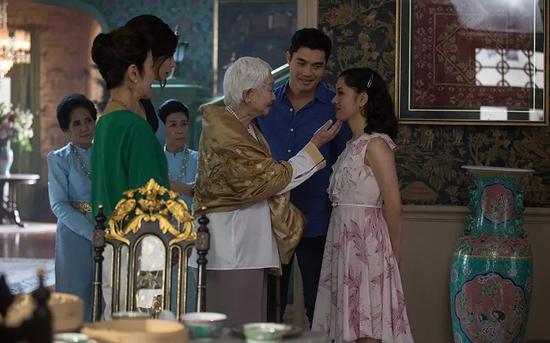 657cd01ed9144b429272d5cbfbaf89b0
Warner Bros.' Asian-centric film "Crazy Rich Asians" continued to lead North American weekend box office with an estimated 25 million U.S. dollars for a second weekend in a row.
It's startling that the second weekend box office of the film dropped only around 6 percent compared to its opening weekend, one of the smallest drops ever in North America. The romantic comedy-drama film, based on Kevin Kwan's novel of the same name, has brought in a total of 76.81 million dollars through Sunday, according to studio figures collected by comScore.
Kwan was born in Singapore as the youngest of three boys into an established Chinese family. The "Crazy Rich Asians" inspired by his childhood in Singapore was the first of his trilogy novels. The two other titles are "China Rich Girlfriend" and "Rich People Problems."
"Crazy Rich Asians" is the first Hollywood studio film in over 25 years to feature a nearly all Asian cast since 1993's "Joy Luck Club." Directed by Chinese American filmmaker Jon M. Chu, the film stars Michelle Yeoh, Gemma Chan, Constance Wu, Ken Jeong, Harry Shum Jr., Chris Pang, Sonoya Mizuno, Jing Lusi and Awkwafina. The plot follows a young Chinese American woman who travels to meet her boyfriend's family, only to find them to be among the richest in Singapore.
The follow-up of "Crazy Rich Asians" is reportedly in the development stages after the impressive box office success.
Another release of Warner Bros., American-Chinese co-production "The Meg," stayed on second place with an estimated 13.03 million dollars in its third weekend. The film has earned a total of 105.3 million dollars in North America, pushing its global total to 408.6 million dollars.
The science fiction shark film, based on the New York Times best-selling novel "Meg: A Novel of Deep Terror" by Steve Alten, is a presentation of Warner Bros. Pictures and China's Gravity Pictures. The film was distributed in China by Gravity Pictures, and throughout the rest of the world by Warner Bros. Pictures.
Directed by Jon Turteltaub, "The Meg" stars English action star Jason Statham and award-winning Chinese actress Li Bingbing among others. Filming on the film was accomplished on location in China and New Zealand. The plot follows a group of scientists who encounter pre-historic huge Megalodon sharks.
STX's black comedy crime film "The Happytime Murders" opened in third with an estimated 10.02 million dollars in its first weekend. Directed by Brian Henson and starring Melissa McCarthy, Maya Rudolph, Joel McHale and Elizabeth Banks, the plot follows a world where puppets and humans co-exist, and a joint police force must solve a recent murder spree of retired sitcom stars.
Paramount's action film "Mission: Impossible - Fallout" landed in fourth with an estimated 8 million dollars in its fourth weekend. Starring Tom Cruise as Ethan Hunt, "Mission: Impossible - Fallout" is the sixth installment in the franchise. The film has brought in 193.9 million dollars in North America and 538.7 million dollars worldwide.
Disney's fantasy comedy film "Christopher Robin" finished fifth with an estimated 6.34 million dollars in its fourth weekend for a North American total of 77.6 million dollars and a global total of 112.7 million dollars.