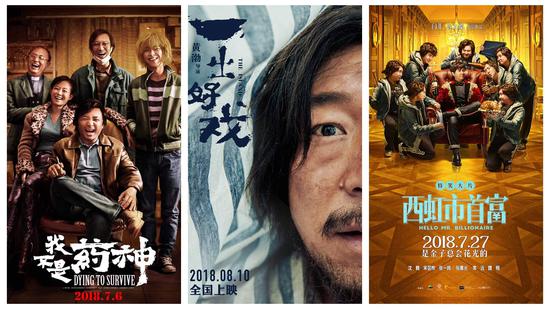 This combo photo shows posters of "Dying to Survive," "The Island" and "Hello Mr. Billionaire."
With summer coming to a close, the time has come to rank the films that have fought tooth and nail for a slice of the box office pie.
Chinese theaters have been busy so far this season. From July 1 to Aug. 16, China's summer box office exceeded 10 billion yuan (1.46 billion US dollars).
More than 40 films hit the big screens during this period, with three domestic films, "Dying to Survive," "Hello Mr. Billionaire" and "The Island," becoming the top three.
Box office battle
"Dying to Survive," which debuted on July 5, remains the biggest winner in both the box office and in public opinion. It has grabbed 3.09 billion yuan (450 million US dollars) and nine out of 10 points on Douban.com, a popular movie rating and review site in China.
Comedy film "Hello Mr. Billionaire" has already earned 2.47 billion yuan (360 million US dollars), and is attempting to break the record of "Dying to Survive" by staying in cinemas for another month.
"The Island," the directorial debut of Huang Bo, a Chinese actor and Golden Horse Award winner, also amazed cinema-goers with its magical realism and stellar performances from actors such as Wang Xun, Wang Baoqiang, Zhang Yixing, Yu Hewei and Huang Bo himself.
The movie released on August 10 has already garnered 1.2 billion yuan (170 million US dollars), and remained the single-day box office champion for nine days straight.
New characteristics
Compared to last year's undisputed summer champion, "Wolf Warrior II," which took home 5.68 billion yuan (830 million US dollars), accounting for almost half of all box office earnings for two months, the gaps between the top three films this year are much smaller.
But they have one thing in common, the three films are all focused on realistic topics. "Dying to Survive" was an adaptation of a real story about a leukemia patient who smuggled cheap, but unapproved, cancer medicine from India for other patients.
It sparked a massive conversation in China regarding the price of medication, and the Chinese government has even promised to speed up tax breaks on cancer medicine.
"Hello Mr. Billionaire" is an ironic comedy based on money worship and the wealth gap, which has led some to accuse the film of promoting mammonish values.
"Shoplifter," a Japanese film based on social news, has racked up nearly 100 million yuan (14.6 million US dollars) since its launch on August 3. The Palm d'Or winner has also set a new standard for non-animated Japanese movie debuts in China.
The once-dominant domestic fantasy film genre has gone through its Waterloo. "Asura," despite gathering some of the biggest names in the Chinese film industry, withdrew from theaters only three days after its release, with only a poor box office and low ratings to show for its record budget.
Hollywood blockbusters close the summer
At the end of the summer, two Hollywood blockbusters will meet the Chinese audience, giving the season a perfect conclusion.
"Ant-Man and the Wasp," another Marvel Comics superhero film, swept Chinese cinemas upon its release on Friday, accounting for 62.9 percent of the single day box office. After grossing over 471 million US dollars worldwide after its debut on July 6, it's expected to be a hit in China as well.
At the end of the month, "Mission: Impossible – Fallout" will hit the screens. As Tom Cruise's latest film, it has already been dubbed as one of the best action films ever. No doubt it will give the summer season box office a final boost.