The BRICS film cooperation plan was initiated by President Xi Jinping at the 8th BRICS summit in Goa, India, and has received supportive responses from the five BRICS countries. In 2017, the first co-production film "Where Has the Time Gone" came into the audiences' sight, and has won several prizes at film festivals globally. This year, the second BRICS co-production film "Half the Sky" will be released, announced the executive producer Jia Zhangke.
"The box office performance and audience support of 'Where Has the Time Gone' has exceeded our expectations," said Jia. "The 90 minutes were like a wonderful journey of different cultures. Audiences can see the talents and emotions of the directors from different countries," he added.
Five good stories make a masterpiece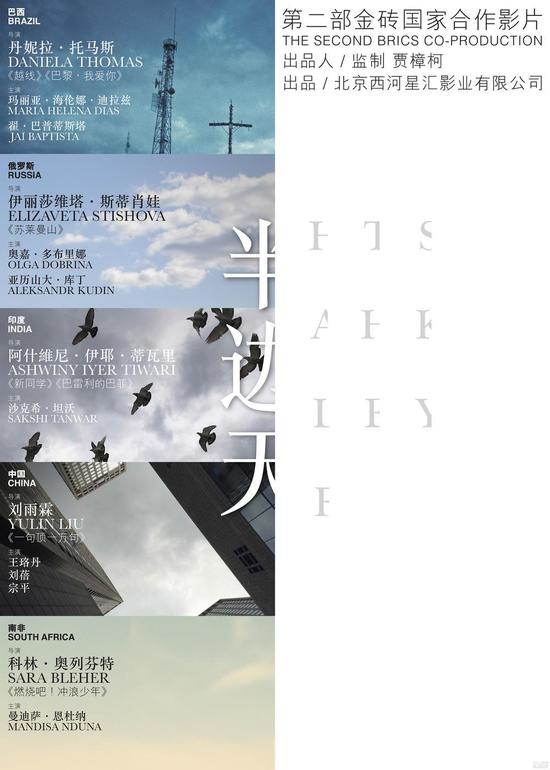 Poster of "Half the Sky" /Sina Photo
Jia announced the production team and some main plots of "Half the Sky" at the press conference.
Representing China, Liu Yulin's film "The Dumpling" depicts an estranged relationship of mother and daughter using the traditional Chinese food as the clue.
The Brazilian story "Back" tells a story about a woman who lives in a big city and decided to go back to her hometown to find her mother. Daniela Thomas directs the powerful story.
Russian story "Catfishing" tells a story with Russia-style humor about a woman who lived in a rural area falls in love with a man via live streaming on the Internet, while "The Measure of a Woman" of South Africa centers on a female athlete fight against gender discrimination.
The Indian story "Taken for Granted" is created by the crew of "Dangal" – the highest-grossing Indian movie in China and is seen as a shorter version of it.
Focus on Women
The title of the film "Half the Sky" is based on Mao Zedong's famous aphorism: "Women hold up half the sky." Jia also states: "It is true that female directors are very creative and dynamic, and they can really hold up half the sky of the film industry, and that is also why we feature feminism as the theme of the second co-production."
Female directors direct all the five short films of "Half the Sky": Liu Yulin represents China, and the remaining four female filmmakers are Ashwiny Iyer Tiwari from India; Elizaveta Stishova from Russia; Brazil's Daniela Thomas and South Africa's Sara Bleher.
Jia also believed that female directors have good eyes to capture emotions and changes in human society. They are more sensitive compared to male directors. However, the entire film industry is not paying enough attention to and is not being very supportive of women filmmakers.
"From the perspective of the film industry, we should let more and more talented female film directors stand behind cameras to present the world from their point of view," Jia said.